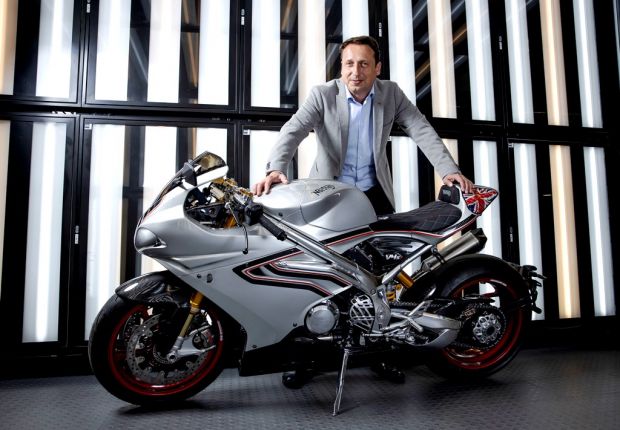 Norton Motorcycles is back with the re-engineered V4SV.
23rd June 2022
Norton Motorcycles has today announced the opening of order books for the highly anticipated and re-engineered V4SV.
The track inspired bike will be produced at Norton's new multi-million-pound factory in Solihull, Birmingham, and is the first bike to roll off the production line, since the company was taken over by TVS Motor Company in April 2020.
This exciting news comes following the recent announcement that Norton has received £100 million investment from TVS, which has enabled the brand to build a state-of-the-art headquarters, introduce entirely new engineering and quality control processes, create hundreds of jobs in the local community and start building the most talented design team in motorcycling.
Last week, Norton also won significant funding through a government scheme, allowing it to commence its electrification journey. The funding win is a clear example of the commitment to innovation inherent in the new Norton and will move the company in an exciting and sustainable direction.
"It is a hugely proud moment to announce that customers can now buy the re-engineered V4SV. I would like to thank the Norton team, customers and fans for their continued support for joining us on this journey in bringing Norton and V4SV to life," said Dr. Robert Hentschel, CEO of Norton Motorcycles.
"We have made monumental strides since TVS took over just over two years ago. We have seen the unveiling of a new state-of-the-art facility, the introduction of an entirely new engineering and quality control process, the creation of new jobs, and now the launch of the re-engineered V4SV. Norton has always been and will always remain a design lead brand, which is why this bike is undoubtedly the most beautiful on the market. It's more than just looks, though. It is the ultimate British superbike, a bike that will excite riders from the moment they get on, to the moment they get off."
"However, this is just the beginning for us when it comes to taking this iconic brand forward."
Prices for V4SV will start from £44,000 with Norton prioritising the deposit orders placed before the company was acquired.
The re-engineered V4SV is available in two colour options: Carbon and Manx Silver.
The Manx Silver option is finished in striking silver bodywork with red and carbon pinstripes, a black front number board and red OZ Racing forged aluminium wheels.
The V4SV Carbon option features exposed carbon fibre body work finish and carbon fibre BST wheels for reduced weight and unrivalled response.
Both Norton V4SV colour options feature carbon fibre fuel tank and body work, a TIG-welded aluminium tube frame handcrafted and polished to a mirror finish, and a Union Jack on the tail of the motorcycle.
To offer the ultimate superbike experience, each model is powered by a liquid-cooled 1200cc, 72-degree V4 engine, and optimised in-house to produce 185bhp at 12,500rpm and 125Nm of torque at 9,000rpm. Also fitted is a full-colour 6-inch TFT display, quickshift and autoblipper system, multiple engine modes, LED lighting, a keyless ignition system and sophisticated lean-angle sensitive traction-control.
To register your interest visit: nortonmotorcycles.com/range/v4sv/
Older

Articles