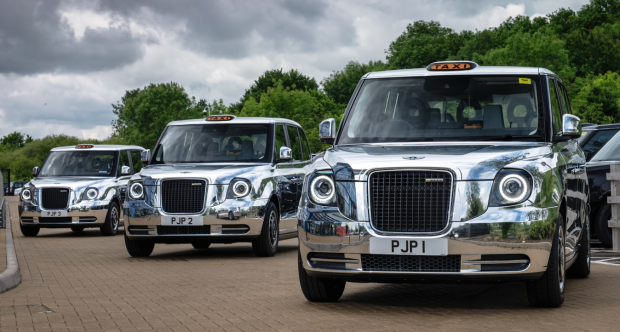 LEVC showcases platinum taxis for the Queen's Jubilee Pageant
3rd June 2022
LEVC (London Electric Vehicle Company) is unveiling three platinum electric TX taxis, which will be seen in the Queen's Platinum Jubilee Pageant on Sunday 5th June.
The Pageant will see the Mall in central London completely transformed, with thousands of performers coming together to celebrate 70-years of Queen Elizabeth II's reign. The three bespoke electric TX taxis will deliver a host of VIPs to their seats ahead of the start of the show.
LEVC is proud to be part of the Pageant as the producers of the iconic London black cab. The company has recently celebrated 7,000 global sales of the electric TX taxi and these cabs now make up more than a third of those operating in London.
Since launching in 2018, the TX has provided sustainable transport throughout the world. Over the last four years, the TX has travelled more than 418 million miles globally and prevented 127,000 tonnes of CO2 being emitted into the atmosphere.
The Queen's Platinum Jubilee Pageant will be televised globally on Sunday 5th June, with coverage starting from 1pm.
Older

Articles