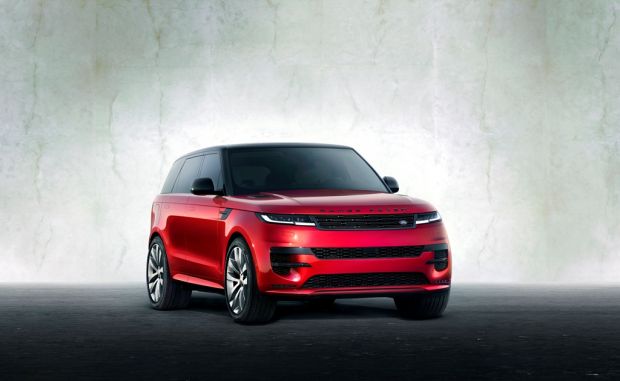 Land Rover introduce the new Range Rover Sport
11th May 2022
The new third generation Range Rover Sport redefines sporting luxury, effortlessly combining assertive and instinctive on-road performance with trademark Range Rover refinement, progressive design sophistication and connected convenience. The third-generation model is the most desirable, advanced and dynamically capable yet.
A suite of powerful and efficient powertrains includes six-cylinder extended range Electric Hybrids, a potent new V8 and mild hybrid six-cylinder petrol and diesel Ingenium engines. Pure-electric propulsion will be introduced in 2024, as Land Rover continues its electrification journey.
New Range Rover Sport is available in S, SE, HSE and Autobiography specifications, with a First Edition available throughout the first year of production featuring a specially curated specification.
The sophisticated exterior is unmistakably Range Rover Sport with taut surfacing, a dynamic stance and instantly recognisable profile, perfectly accentuated by stealth-like detailing and muscular proportions – giving the impression the vehicle is poised and ready.
Dramatic proportions accentuate the Range Rover Sport's distinctive character, with short overhangs, an assertive front-end and steeply raked glazing at the front and back. These trademark elements provide a strong and imposing road presence that communicate power and performance. The clean lines of the exterior are enhanced by beautifully executed flush glazing and door handles, a hidden waist rail finisher and laser-welded roof for a precise, technical and sophisticated appearance.
The new Dynamic model brings an even sharper focus to the performance SUV's purposeful character with unique exterior design elements. Satin Grey alloy wheels are joined by Satin Burnished Copper finishes for the bonnet louvres and side ingots while the front grille and Range Rover lettering are finished in Matte Graphite Atlas. With unique front and rear bumpers and bespoke lower cladding finished in body colour, the Dynamic delivers the most dramatic interpretation of the Range Rover Sport formula.
New Range Rover Sport's reductive design extends to its all-new interior, which features the trademark Range Rover Command Driving Position, the latest technologies and the finest materials, which combine for a compelling balance of sartorial elegance and visceral desire. The cockpit-like cabin sets the tone for the dynamic driving experience, providing excellent visibility while simultaneously cocooning the driver with a high, sloping centre console and intuitive technologies.
The inherent stiffness and strength of the flexible mixed-metal architecture (MLA-Flex) – which provides up to 35 per cent higher torsional stiffness than the previous Range Rover Sport – lays the foundations for this technology. It harmoniously works with a suite of systems governed by the Integrated Chassis Control system – all specially tuned for New Range Rover Sport. New Range Rover Sport's cornering agility is taken to a new level with All-Wheel Steering, Torque Vectoring by Braking and the Electronic Active Differential. All-Wheel Steering provides rear-wheel steering of up to 7.3 degrees out of phase with the front wheels to achieve enhanced agility and manoeuvrability at low speeds, while turning in-phase for superior stability at high speeds. This gives New Range Rover Sport the turning circle of a hatchback and on-road agility of a much smaller car.
All New Range Rover Sport models are fitted with an eight-speed ZF automatic transmission and Intelligent All-Wheel Drive, which intuitively anticipates where traction is required, efficiently engaging to provide the most effective progress in all conditions, while optimising efficiency. Enhancing the off-road performance is Land Rover's latest Terrain Response 2® system, which intelligently applies the most appropriate settings for the terrain. New Adaptive Off-Road Cruise Control makes its debut on New Range Rover Sport and helps drivers navigate tricky terrain by maintaining steady progress according to the ground conditions. Drivers can select one of four comfort settings and the system intelligently adjusts the speed accordingly, allowing the driver to focus on steering.
The new P510e Electric Hybrid is engineered to meet the demands of drivers looking for a high-performance drive, impressive efficiency and more than 100km of zero emissions EV range. It seamlessly blends Land Rover's 3.0-litre six-cylinder Ingenium petrol engine with a powerful 105kW electric motor and 38.2kWh battery, producing a total system output of 510PS.
A P440e Electric Hybrid is also available, producing a total of 440PS from its powertrain and the same all-electric driving range and low CO2 emissions. It too provides effortless acceleration and refinement, completing 0-100km/h in just 5.8 seconds (0-60mph in 5.5 seconds).
Alternatively, the new flagship V8 Twin Turbo produces 530PS for the most exhilarating Range Rover Sport character, accelerating from 0-100km/h in just 4.5 seconds (0-60mph in 4.3 seconds) with Dynamic Launch engaged and bringing an added level of visceral excitement to the line-up. The comprehensive choice of powertrains includes powerful P360 and P400 mild-hybrid straight six Ingenium petrols, and six-cylinder D250, D300 and D350 mild-hybrid diesel engines.
The new Range Rover Sport is available to order now, priced from £79,125 (OTR) in the UK.
Older

Articles