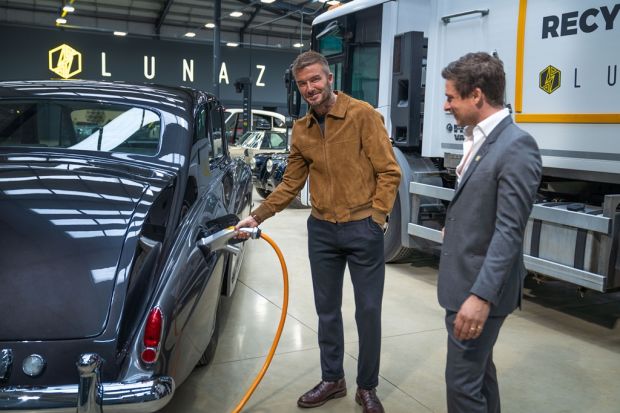 David Beckham invests in UK electric vehicle company: Lunaz
3rd June 2021
Lunaz is a rapidly growing technology company that upcycles and converts motor vehicles to its proprietary electric powertrain. Today, it announces an ambitious new growth phase following backing by a group of strategic investors.
Lunaz provides a proven response to the requirement legislated by global governments to sustainably transition vehicle fleets to clean-air powertrains.
David Beckham is joined as an investor by the Reuben and Barclay families and Alexander Dellal. They join founding investors; Navid Mirtorabi and CJ Jones who are both entrepreneurs and investors in clean-tech startups. Through his investment arm Beckham has successfully identified and backed fast-growth start-ups in sectors as diverse as eSports and athletic recovery products. He took a 10% stake in the company.
The company established its global leadership in vehicle electrification through its work furthering the legacies of the most celebrated classic cars in history. Bringing to market the world's first fully-electric Range Rover, Bentley, Rolls-Royce and Jaguar sports cars through its Lunaz Design brand. It did this to much global customer and critical acclaim. The 1961 Bentley Continental Flying Spur by Lunaz was awarded by BBC Top Gear in its 'Electric Vehicle Awards' issue.
Since Lunaz started production of its first cars in 2019 it has drawn an entirely new generation to some of the most revered marques in history. They have been compelled by the answer electrification provides to the key questions of reliability, usability and sustainability that surround classic car ownership. This growth has accelerated as individual and hospitality buyers across the globe rebalance their fleets in response to increasing pressure from legislators to limit the use of high-emissions vehicles in city-centres.
The company is headquartered in Silverstone, Britain's advanced automotive technology heartland. It is the fastest-growing and now largest company by manufacturing space and employees within the Silverstone Technology Cluster.
Older

Articles