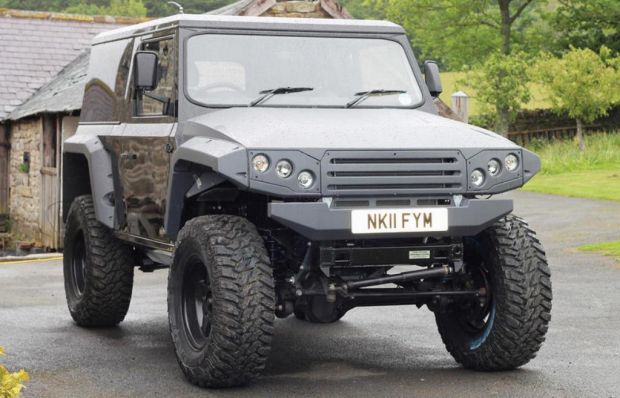 Scotland's second car builder reveals its plans for a rugged EV
31st March 2021
Scotland's only second car maker is a start-up company called ATAE (All-Terrain All-Eletric has announced plans to launch its new agri-spec Munro SUV: a rugged, off-road-oriented 4x4 with a one-tonne payload and 150-mile range. The only other north-of-the-border manufacture is Raptor Sports Cars, established makers of a Seven style car.
Founded by Russ Peterson & Ross Anderson, ATAE aims to fill a gap in the market for a back-to-basics electric off-roader. Based at their Dalmarnock workshop, they have designed the new model around the already-proven body and chassis of the conventionally fuelled Ibex F8 from Yorkshire manufacturer Foers, listed elsewhere on this site.
The Ibex F8, a tried-and-tested design commonly regarded as one of the most capable 4x4s on the market, will become the 'Munro' upon fitment of ATAE's EV powertrain - a name which reflects the brand's Scottish heritage. As well as private buyers, the model is aimed at at farmers, estates, national parks, adventure companies and utility companies that require remote access to power lines and other infrastructure.
They decided to go for new-build rather than join, belatedly, the rather overcrowded Defender conversion market for a variety of reasons, including the price of the finshed vehicle.
The Munro is still under development so the company is not releasing details until a full launch later this year, but has confirmed that it plans to mostly use components sourced from the UK, including the batteries. ATAE has yet to name a supplier, and the exact specification is yet to be finalised, but the company is aiming for a range of around 150 miles per charge, with DC rapid charging enabled. The current powerplant is a US-designed motor producing 209bhp and 258lb ft, though future variants could use a different unit.
The monocoque structure is built using the latest techniques, while the chassis has been modified to include a housing for the batteries. The folded aluminium panels are riveted and bonded to the framework to prevent electrolytic corrosion, extending the life of the vehicle. With the emphasis firmly on off-road performance, solid beam axles will be fitted along with a two-speed transfer box and locking centre differential. Towing capacity and payload should be similiar to the conventionally fuelled Ibex F8 at 3.5 tonnes.
First deliveries are scheduled for 2022, with annual production output planned at less than a 1000 units per year. With no established dealer network, the Munro will be marketed online. Prices will likely be around £50,000 for the standard car, with a slightly cheaper version for commercial use. Options such as a larger battery and a more upmarket interior will also be available on pricier versions.

Older

Articles