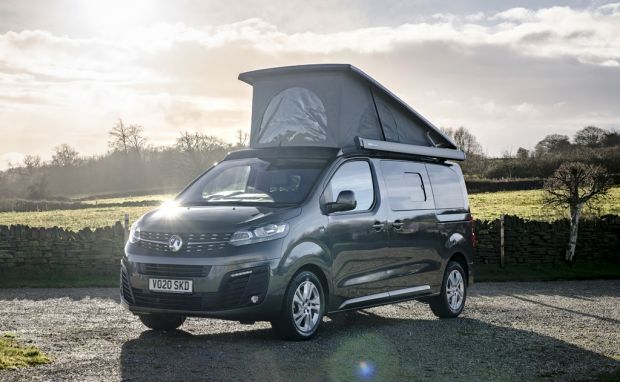 Yorkshire campervan converter receives Vauxhall (Groupe PSA) Quality Certificate
6th March 2021
Wellhouse Leisure, which produces campervan conversions in Barnsley, Yorkshire based on the Vauxhall Vivaro van, has been awarded an official Quality Certificate from Vauxhall's parent company, Groupe PSA (now Stellantis), and has already received orders from 15 Vauxhall dealers across the UK, with more expected to confirm their orders soon.
The Quality Certificate is a great credit to Wellhouse Leisure's new premises in Barnsley, South Yorkshire, which created 60 percent more space for its factory, parts warehouse and offices than its previous location in Huddersfield.
The Wellhouse Leisure Vauxhall Vivaro Elite campervan is the only camper made in Britain, as the Vivaro is produced by Vauxhall in Luton and then converted by Wellhouse Leisure in Yorkshire.
The Vivaro Elite campervan has a luxury specification that includes: an elevating roof, kitchen with two-burner cooker and sink with a glass lid, a 25-litre compressor fridge, solar panel, Eberspacher 2.2kw heater, dark-tinted rear glass and LED mood lighting. The internal furniture is available in a choice of five different Italian woods.
When camping, the driver and passenger seats can be swivelled to face the rear living area, and the crash-tested, two-seater rear bench seat (made in Germany) uses a multipoint fixing so it can slide on rails in the floor to create more living space or storage, as required, and also converts to a bed.
The two-litre engine is available with 120 PS and a six-speed manual (from £49,000), or 180 PS with a six-speed automatic. It is an easy vehicle to use as an everyday car with dimensions of 4.95m long, 1.92m wide and 1.98m high, so it fits into most car park spaces and under height barriers.
Commenting on the orders received from Vauxhall dealers, Richard Hughes, Director Commercial Vehicles & Customer Experience, said: "We are delighted by the response to the Vivaro Elite campervan by the Vauxhall dealer network. Staycations are going to be even more popular this year, so being able to offer this high quality lifestyle vehicle should be very successful for them."
David Elliott, CEO and founder of Wellhouse Leisure commented: "We are very proud to receive this Quality Certificate. It is always satisfying for an outside organisation to review and rate the high standards of our conversions."
"The level of interest we're already getting in our Vivaro Elite campervan from Vauxhall dealers is really exciting and perfect timing for the high demand for campervans for more staycations in 2021," David added.
During the current lockdown restrictions, Wellhouse Leisure is offering live video tours of its vehicles via WhatsApp. To make an appointment, or for further information, call 01226 668800, email info@wellhouseleisure.com or visit www.wellhouseleisure.com/our-brands/vauxhall-vivaro/; and for all the latest updates, follow Wellhouse Leisure on Twitter (@wellhousecamper), Instagram or Facebook.
Older

Articles