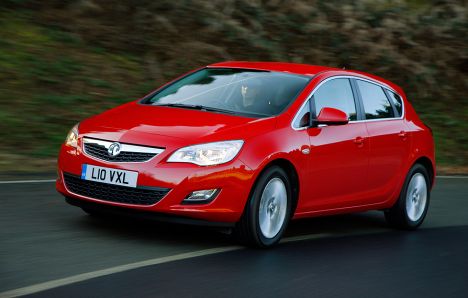 Reasonably Priced Car is British-built at last!
2nd July 2013
Top Gear has chosen the British-built Vauxhall Astra as its new Reasonably Priced Car for the 20th series of the programme. The car survived its first outing on last night's edition, despite Jimmy Carr's best efforts to wreck it!
The Astra, the first British-built car to feature in The Star In The Reasonably Priced Car spot, is the five-door Tech Line model in Power Red (very Top Gear), built at GM's plant at Ellesmere Port in Cheshire.
Ellesmere Port is responsible for manufacturing all Astras sold across Europe, but UK buyers take the lion's share, amounting to 25 per cent of total production. Small wonder, then, the Astra is Britain's best-selling UK-built car and one that is almost always seen in the top three sales listings.

What's more, the Lower Medium Sector, in which the Astra sits, is hugely significant in the UK, accounting for 17.5 per cent of all retail car sales. With style-conscious buyers choosing Vauxhall more and more, the Astra has a large part to play in this success, along with its continued appeal to buyers in the fleet market.


Older

Articles