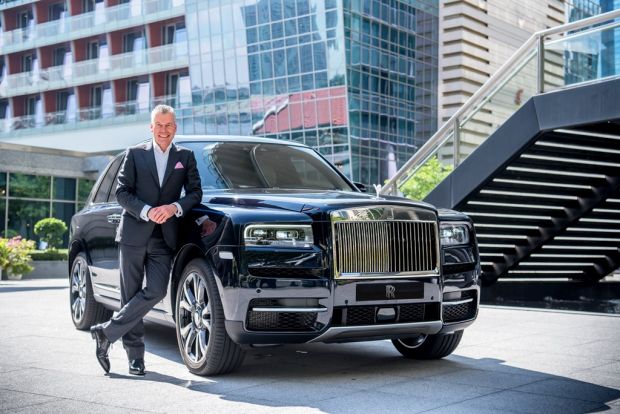 Rolls-Royce Motor Cars delivers historic record result in 2019
7th January 2020
Rolls-Royce Motor Cars has delivered an historic annual sales record in 2019, with a global performance unequalled in the company's 116-year history. A total of 5,152 cars were delivered to customers in over 50 countries around the world, an increase of 25% on the previous high set in 2018. With these historic results, Rolls-Royce continues to make a meaningful contribution to the overall performance of its shareholder, BMW Group.
Sales grew across all regions during the year, driven by strong customer demand for all Rolls‑Royce models. The company reported significant sales growth in every one of its key global markets. North America retained top status (around a third of global sales) followed by China and Europe (including UK). Individual countries that achieved record sales results included Russia, Singapore, Japan, Australia, Qatar and Korea.
In November 2019, the marque completed its dark, edgy Black Badge family with the addition of Cullinan Black Badge alongside Ghost, Dawn and Wraith variants, all of which were highly sought-after by customers seeking a more individual, rebellious expression of the Rolls‑Royce brand.
Phantom retains its rightful place as the company's pinnacle product, with Dawn and Wraith continuing to dominate their respective sectors; strong demand was experienced for all three models during the year. Cullinan, the marque's new SUV, successfully translated the media plaudits and public acclaim into the largest advance order book and fastest post‑launch sales growth of any Rolls-Royce model in history.
In its first full year of availability, Cullinan exceeded even the highest expectations raised by its successful launch. The world's pre-eminent super-luxury SUV has become the fastest-selling new Rolls-Royce model in history.
2019 marked the end of Ghost production after 11 years of uninterrupted commercial and critical success. Ghost's successor is due for launch in mid-2020 after five years in development. With market availability from the fourth quarter .
At more than 2,000 strong, with 50 nationalities represented, the workforce at the Home of Rolls-Royce is now at its largest since the opening of Rolls-Royce's Global Centre for Luxury Manufacturing Excellence, in 2003. During 2019, 50 new jobs were created to meet expanded global demand.
The year saw significant new investment in the manufacturing plant at the Home of Rolls-Royce at Goodwood, reaffirming both the company's commitment to its UK operations and its buoyant outlook for the years ahead. Projects included further refinements to the already world-class manufacturing facilities, equipment and processes, to maximise efficiency and ensure the highest levels of quality as demanded by Rolls-Royce customers. A new two-storey development, due for completion in the first quarter of 2020, will add more than 1,000 square metres to the ground floor Assembly Hall, and create additional first-floor office space.

Older

Articles