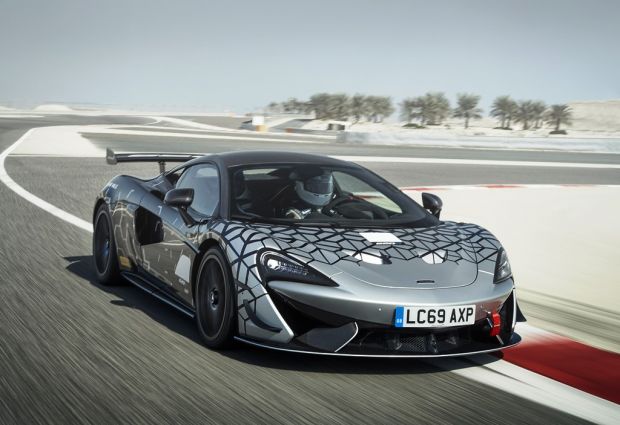 McLaren Automotive takes to the track with 620R
9th December 2019
McLaren today announces the 620R, the first car in its class to offer true motorsport credentials in a fully road-legal package. The limited-edition coupé – just 350 will be built – evolves the competition specification of the McLaren 570S GT4 to deliver a race-car experience on either track or road.
McLaren has enjoyed significant GT race success with Customer Racing teams and in recent seasons the 570S GT4 has been instrumental in adding to that record of success. Now, as the ultimate track-focused, track-ready but roadgoing McLaren Sports Series model, the McLaren 620R – a car destined to be both rare and collectable, thanks to its strictly limited production run – celebrates the achievements of the 570S GT4.
The McLaren 620R is a unique proposition, delivering a pure motorsport experience in a road car with authenticity: it looks like a race car, handles like a race car, performs like a race car and feels like a race car. The result overall is a seamless transition from race to road – and vice versa. Exclusive and extreme in equal measure, the McLaren 620R retains the DNA of a fully homologated track car yet is free from the restrictions that race regulations apply.
The 620R has the same M838TE 3.8-litre twin-turbocharged V8 engine used in the GT4 car, but with a significant difference in power output; freedom from racing regulations has allowed the engine ECU and turbocharger management to be reconfigured to achieve 620PS (610bhp), making this the most powerful Sports Series car yet. The engine also develops torque of 620Nm (457lb ft) and even with lap times more important than sheer top speed, the combined outputs helps to deliver benchmark performance figures of 0-100km/h (62mph) in 2.9 seconds and 0-200km/h (124mph) in 8.1 seconds. Maximum speed is 322km/h (200mph).
The use of stiffer powertrain mounts reduces drivetrain forces under acceleration, minimising the effect of inertia under high load, while the 7-speed Seamless Shift Gearbox (SSG) delivers super-fast shift times,
Fitment of the GT4's two-way manually adjustable coilover motorsport dampers, which feature 32 clicks of adjustment per corner to allow a driver to tailor compression and rebound rates to suit their driving style and track conditions, adds to the 620R's motorsport credentials. The dampers also help to bring weight down overall, being more than 6kg lighter than the regular Sports Series units.
Stopping power comes from McLaren's latest lightweight braking system, which in the track-focused set-up on the new 620R comprises carbon ceramic discs (390mm front, 380mm rear) and forged aluminium brake calipers all round, with improved pedal response, modularity and resistance to fade even after repeated hard-driven circuit laps. This is the first time that a road-legal car with 19-inch front wheels and 20-inch rear wheels has been engineered to be able to run on slick tyres without the need for additional mechanical adjustment.
While the rear wing quite literally stands out as an obvious distinguishing feature on the 620R, it is not the only component adapted from the GT4's aggressive track specification to meet road homologation standards. The front bumper, splitter and bonnet have been redesigned – the splitter retaining pronounced aero blades and cut-out – while the carbon fibre bonnet has twin nostrils to aid downforce and clean up the airflow over the top of the car.
The interior clearly and immediately stands out as track-inspired - any GT4 race driver will feel instantly at home. As with any serious circuit car, it is as much about what has been stripped out as what has been included - the 620R does not have a floor carpet or a glovebox. Air-conditioning, IRIS Navigation and an audio system are also missing from the standard specification, although all can be selected at no additional cost. A lightweight Bowers & Wilkins upgraded audio system is also available, as a cost option. Driver and passenger are secured in super-lightweight carbon fibre racing seats by six-point racing harnesses, fitted as standard.
All three exterior colours available as standard on the 620R are inspired by GT4 race cars – McLaren Orange (with white racing stripes), Silica White (orange stripes) or Onyx Black (orange stripes).
620R production will be limited to just 350 customer orders, all hand-built at the McLaren Production Centre in Woking, Surrey. Production will begin in January, with each car costing from £250,000 including taxes (UK); for buyers purchasing in Europe and the USA, the price includes a Pure McLaren Track Day, with expert driving tuition at a race circuit.

Older

Articles