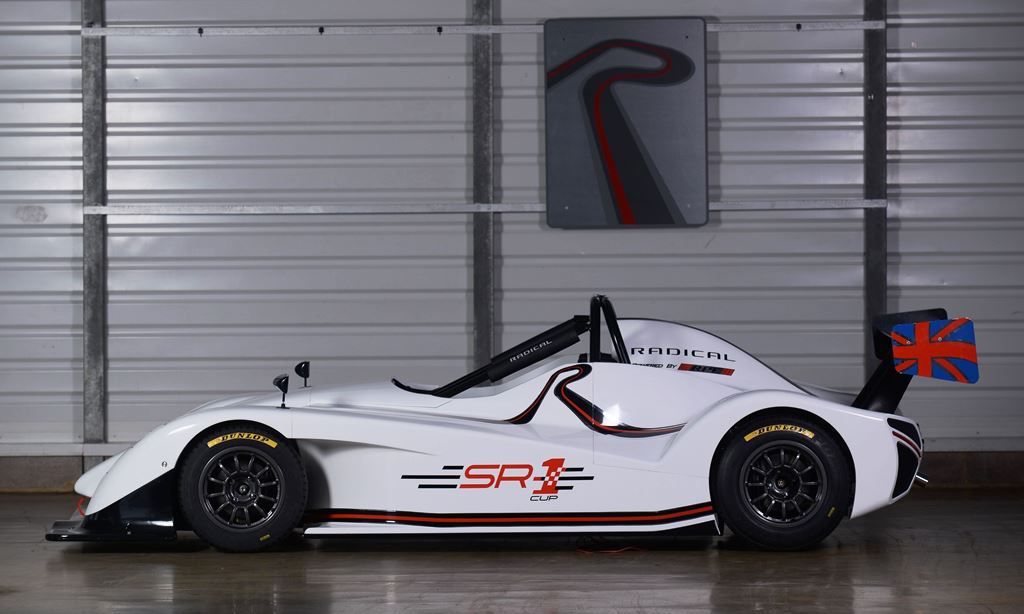 Radical

- SR Price:

POA
Last Updated On: 03/10/2020
Radical's SR range are the most widely produced and successful prototype style sportscar racers in the world. It is made up of four models: SR1, SR3, SR8 and now the new SR10. Apart from the SR1, which has its own series, they are all eligible to race in a number of national and international race series.
SR1 (images 1 to 3)
Having recently been re-developed in 2017, the Generation 2 SR1 has been substantially revised with dramatic new styling, improved aerodynamics and updated electronics. The SR1 is the first step on the Radical ladder, ideal for enthusiasts looking to take their circuit driving to the next level with a focused sports-racing car that has an excellent safety record.
Although entry level, the SR1 offers an outstanding package with unparalleled performance for money, that will get you on the grid in a professionally administered race series.
Putting out 182bhp, in a car weighing just 490kg, performance figures are a 0-60mph (97km/h) time of 3.5 seconds and a top speed of 138mph (222km/h).
SR3 XX (images 4 and 5)
The SR3 XX is the ultimate evolution of the SR3, first launched in 2001, as the next step up from the SR1 offering thrilling, cost-effective, high-performance track driving and racing. Radical claims it is the world's best selling racing car.
The SR3 XX is the first production race car to feature AiM's new solid-state technology, which controls not only power management, but also a suite of data options and technology. To put the power of this new technology at all racing car driver's fingertips, the SR3 cockpit has been re-designed, with a new dashboard designed around a new multi-function steering wheel, incorporating a built-in LCD display.
Drivers can choose between Radical's proven 1340cc or 1500cc four-cylinder RPE-Suzuki engines to power the new model, both assembled by Radical's world-class race car engineering team. Both are driven through a six-speed sequential gearbox with paddle shift and Quaife limited-slip differential, and are coupled with a new-generation racing exhaust system. Performance figures for the latest SR3 are a 0-60mph (97km/h) time of just 3.1 seconds and a top speed of 147mph (236km/h).
SR8 (images 6 to 7)
The SR8 is a truly exhilarating drive, powered by a bespoke Radical V8 engine with physics-defying grip, relentless acceleration and powerful brakes.
Brand new in 2017, the Generation 3 SR8 has had a major redesign. The new LMP inspired front end with new front splits and diffusers has a stunning look and a higher revving engine gives even greater performance.
It has 11 years of track development behind it which all adds up to a car that can lap Silverstone GP in sub 2 minutes. It nears LMP2 performance and was used by Michael Vergers to set the production car lap record around the fearsome Nürburgring Nordschleife which stood for 12 years.
With a power output of 411bhp, and weighing 725kg, the SR8 is capable of a 0-60mph (97km/h) time of 2.8 seconds and a top speed of 173mph (278km/h).
SR10 (image 8)
Topping out the SR range, the new SR10 is designed to keep you on the track for longer, faster. Whether lapping casually at your local motorsport country club, or dicing with GT and LMP competition in an around-the-clock enduro, the SR10's sole purpose is to out-run and out-manoeuvre the competition whilst remaining easy to drive and cost-effective to run.
The SR10 applies Radical Performance Engines (RPE) cutting-edge engine tuning capabilities with the proven durability of Ford's EcoBoost engine architecture. This is no ordinary production unit; as Radical's in-house powertrain division, RPE have developed a bespoke turbocharger, induction and engine management package to release over 425bhp and 380lb-ft of torque from the engine.
This high-output engine is integrated with a new Hewland GT3-derived six-speed gearbox. The SR10 is Radical's first application of the Hewland TMT transaxle, originally developed for the FIA F2 single-seater.
This compact unit includes an integral paddleshift actuator and innovative WaveTrac ATB differential for maximum traction in all conditions, and is a perfect match for the high torque generated by the 2.3L High Output variant of the RPE-Ford inline four-cylinder engine.
As recently debuted on the SR3 XX, the driver's environment features a new wheel-mounted LCD multi-page display and additional car controls at the driver's fingertips. On the SR10 this includes multiple engine and gearbox mapping options and adjustable weighting for the optional electronic power steering system, also a first for the SR model line.
Additional Images: click to enlarge