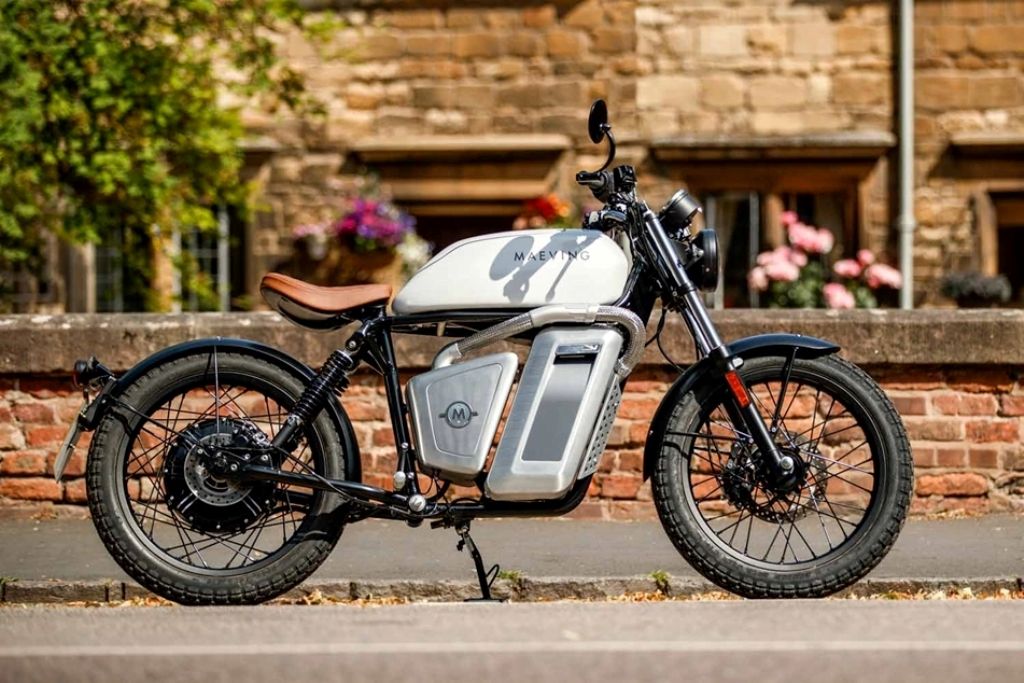 Maeving

- RM1 Price:

from £4,995
Last Updated On: 12/07/2022
The Maeving RM1 is a new and highly innovative electric retro-styled motorbike, designed essentially for zero emission urban travel.
A unique selling point of this attractively styled machine is that the battery which powers the Bosch hub motor can be quickly removed from the bike and fully charged anywhere on a atandard 3 pin socket, in around four hours. A hub motor means that the power is delivered directly to the rear wheel. No chain, no belt, nothing between the power and the wheel. This provides great torque and immediate power delivery, but also massively simplifies servicing.
There is also the option of running two of the batteries side by side, effectively doubling the range to around 80 miles. Top speed with either battery option is 45mph (72km/h), but with 118ft.lb of torque available it pulls away with about the same speed as a 125cc petrol powered bike up to 30mph. Every bike comes with a second battery area that doubles up as a lockable storage compartment if not in use.
The RM1 has three power modes and the the lower two restrict top speed to about 25mph (40km/h) and 30mph (48km/h) and which can be useful in a very low battery situation.
The nicely retro analogue speedometer has an LCD insert that displays the battery percentage (not range) as well as trip info, mode and a clock. There is an extra cost option of adding a GPS tracker system. the only other option, other than the second battery one, is a no-cost one of seven paint colours.
The Maeving comes with a two-year warranty with the batteries covered by a three-year warranty.

Additional Images: click to enlarge