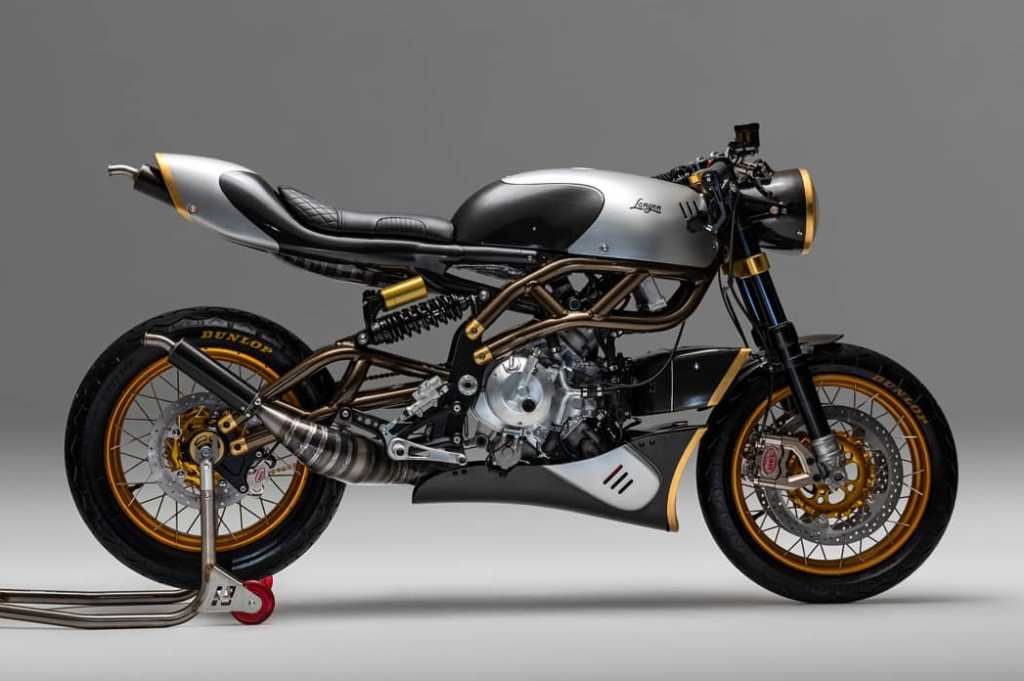 Langen Motorcycles

- Two Stroke Price:

from £33,600
Last Updated On: 29/03/2022
After more than a decade since the last two stroke bikes were made, Langen Motorcycles have launched their eagerly awaited super-lightweight machine, naturally called the Two Stroke.
This very special bike with it's handcrafted frame, carbon fibre fuel tank and beautifully machined metalwork weighs in at just 125kg, with a full tank of fuel. It's powered by a 75bhp, 250cc V-twin two-stroke from the Italia Vins Duecinqanta sportsbike, which can rev up to 11,500rpm and drives the bike through a six-speed racing gearbox. The Two Stroke also features Vins electronically controlled fuel injection and patented oil-injection system. Top speed is anticipated to be 140mph (225km/h).
Build quality is wonderful, with every component beautifully made. All the parts are high quality and the majority are made in the UK using specialist British companies. With almost the same power and performance as a 250GP bike, very short service intervals could be a worry, but the company say that this will be every 1800 miles, when the gearbox oil is replaced and the pistons and rings inspected.
Braking is very effective with the twin Brembo discs up front bringing the sealed spoked wheels (120/70-17 front; 150/60-17 rear) to a very quick and safe stop. Being exempt from Euro5, by way of being type-approved under SVA regulations, means there's no ABS however.
Instrumentation is basic but beautifully executed. Above the machined metal of the top yoke, nestled inside the carbon-fibre of the headlamp cowling, sits a simple tacho, with the speedometer displayed inside a small digital panel within that rev counter.
Production of the limited run of 100 bikes is scheduled to start in 2022.
Additional Images: click to enlarge