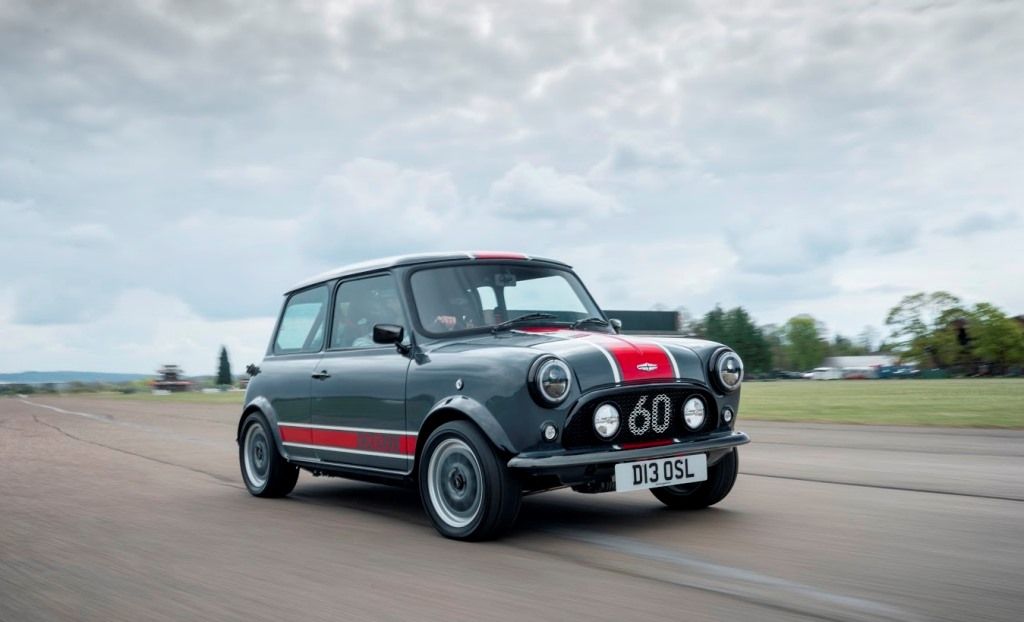 David Brown Automotive

- Mini Remastered Oselli Edition Price:

POA
Last Updated On: 24/05/2021
Made in partnership with race powertrain specialists, Oselli, the new car from David Brown Automotive is the most performance-focused version of the Mini Remastered created to date by the company.
Hand-made to order in the Silverstone build facility of David Brown Automotive, and with a drivetrain engineered in partnership with Oselli, the acclaimed British engine tuning specialist first founded inthe 1960s, the one-of-a-kind and race-ready city car is the most powerful Mini Remastered so far. The car launches with a power rating of 125 hp at 6,200 rpm, a torque rating of 113 ft-lb at 4,500 rpm and an impressive 0-62mph (100km/h) time of 7.8 seconds. Designed and engineered to have a dual personality, Mini Remastered, Oselli Edition is just as comfortable on city streets as it is on the racetrack.
Key performance enhancements to make Mini Remastered Oselli Edition ready for the track include a number of expert technical changes, including a hand-ported and polished cylinder head, strengthened crankshaft, high-torque performance orientated camshaft, twin-SU carburettor set-up, a limited-slip differential; together with other sports-centric tuning around the car including high-performance brakes by AP Racing, sports-orientated suspension by Bilstein and a free-flowing sports exhaust system. The car is made with larger 13-inch wheels fitted with high-speed-approved tyres to maintain grip on the road or track surface. the car is constructed with a remastered five-speed gearbox, while an automatic version is also available (offered as a four-speed set-up, with a 1,380cc engine).
A selection of unique exterior colourways are available with contrasting stripes that carry through to the interior design. A choice of 'Carbon Grey' and 'Old English White' base colours match the accents in either 'Competition Red', 'Royal Blue' or 'Heritage Green'. All exterior graphics are hand-painted for an extremely high-quality finish. Monochrome, hand-enameled badging – used by David Brown Automotive in other performance limited-edition models, such as the Speedback Silverstone Edition,launched in 2018 – adorns the exterior of Mini Remastered, Oselli Edition and the look is completed with full black chrome brightware.
The grille of the performance car shows the number '60' in contrasting hues as a nod not only to the race numbers that show on cars taking to the track, but also to the 60 years since the original Mini first rolled off the production line. Also on the front of the car, full LED lighting with auxiliary spotlights effectively lights the way.
A number of new interior design options also live up to the standard of the classic car's sporty look and feel. The Oselli Edition can be ordered in either a two or four-seat configuration, with the two-seater featuring bucket seats shaped for a thrilling ride and a rear hand-trimmed roll cage, while a four-point seatbelt harness adds to the feel of a car intended for the racetrack. There is also the option to order the car with twin fuel tanks for extra mileage range on longer journeys or race events. An interior lined with hand-trimmed luxury leather and Alcantara materials emphasises the premium look and feel of Mini Remastered, Oselli Edition.
Production of the Oselli Edition will be limited to just sixty examples.
Additional Images: click to enlarge