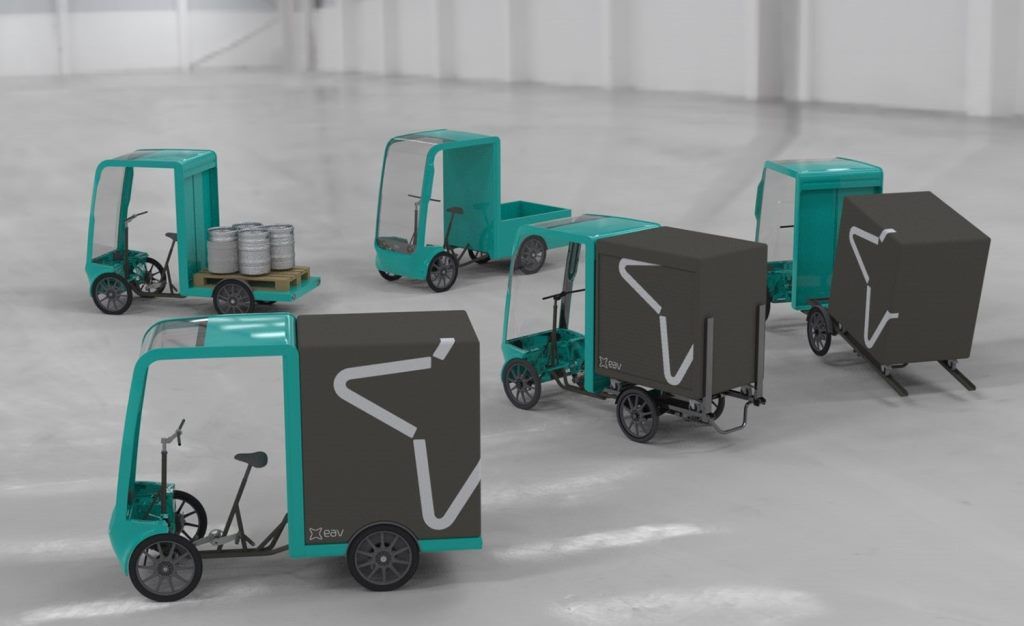 EAV

- eCargo Bikes Price:

POA
Last Updated On: 22/05/2021
EAV (Electrically Assisted Vehicles) make a range of highly innovative and flexible bike vans which as the name suggests are electrically assisted.
EAV Platform: The EAV Platform forms the chassis of entire EAV range due to its simple and versatile design becoming a perfect addition to a fleet due to its adaptable nature. The EAV Platform has an onboard removable battery system for quick, "infrastructure free" recharging, by battery swapping and offers a whole range of design possibilities to suit the working requirements in every type of scenario.
EAV Pickup: Our EAV Pickup is perfect for transporting goods such beer kegs or work equipment. The pickup bed design lends the EAV Pickup to versatility so the only limit is your imagination!
EAV 2Cubed: The EAV 2Cubed is their best selling eCargo vehicle. Using the highly stable platform chassis with Cloudframe technology, this low maintenance, ultra-durable, sustainably produced last mile delivery vehicle is the ideal partner to your fleet mix today! Bridging the gap between the traditional cargo bike and the van, EAV culminates all the comfort and user appeal needed along with the increased efficiencies and true zero emission credentials. Remotely opening cargo doors, adjustable height shelving, high level automotive spec rear lights including side, brake and indicators, we even include a spare wheel!
EAV RoRo: The EAV RoRo (roll on/roll off) is the most versatile eCargo vehicle on the market today. Opening the way to develop legacy logistics models and bring them into the new era of postal and parcel delivery. EAV's RoRo EuroPod will become part of the final mile hardware from final sorting station within the outer city depot. This will enable a more optimised packing procedure and less requirement on inner city real-estate, operating from reactive mobile depots in the form of alternative fuel HGV's. EAV's EuroPod's are 1.2m³ in volume and can be customised with tailored shelving, temperature controlled compartments and GPS tracking.
HG-EAV: The HG-EAV utilises the same EAV platform as a "tractor unit" and marries with a braked, twin wheel trailer capable of being developed around different business requirements such as pallet networks or cycle sharing schemes. With up to 60 miles of optional range to specify, they also offer a Solar panel roof which can offer up to 40% additional range. The HG-EAV can carry 3 Euro-pallets and up to 360kg worth of goods and so is perfect for your heavier deliveries!
EAV Cool: Their temperature controlled EAV Cool is manoeuvrable, functional, and stylish. It has chiller compartments capable of refrigerating your goods from -2 degrees to 4 degrees, perfect for restaurant, grocers and ice cream suppliers! There is also the option to insulate your goods with our warm temperature control system, perfect for a coffee stand, baked goods or a butchers. Our EAV Cool boxes can be paired with our EAV 2³ or EAV RoRo designs to suit your needs.
EAVgo: This is an ultra-lightweight passenger vehicle capable of carrying up to 2 people. Currently no zero-emissions alternative to private hire vehicles (PHV) or taxis exist that is exempt form urbanisation and vehicle emission restrictions. It has distinct operational advantages over over conventional and electric vehicles, while providing superior functional capability, durability and user experience to current ultra-lightweight alternatives. EAVgo is standalone in their class for offering wheelchair access in an ultra-lightweight passenger vehicle. Every EAVgo will offer this function and be easily configurable to do so.
Additional Images: click to enlarge