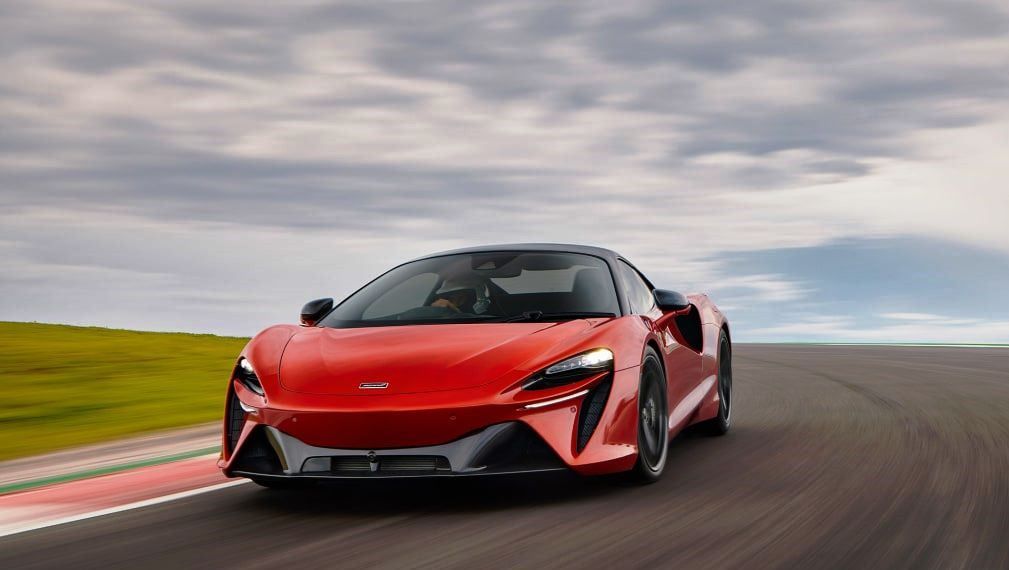 McLaren

- Artura Price:

from £185,500
Last Updated On: 01/05/2021
The Artura is McLaren's first series-production high-performance hybrid supercar, with electrification now bringing the additional benefits of even faster throttle response, lower emissions and being able to run in pure EV mode for emissions-free journeys of up to 19 miles (30km).
All-new from the ground up, the Artura presented McLaren engineers and designers with new opportunities to innovate, chief among these being how to preserve McLaren's super-lightweight engineering philosophy when adding hybrid powertrain elements including an E-motor and battery pack.
At the heart of the Artura's powertrain is McLaren's all-new, 2,993cc twin-turbocharged V6 petrol engine. With a power output of 585PS – nearly 200 PS per litre – and 585Nm of torque, the dry-sump aluminium engine is compact and lightweight; at just 160kg it weighs 50kg less than a McLaren V8 and is significantly shorter, enhancing packaging efficiency.
Working in harmony with the new V6 is the Artura's compact axial flux E-motor, located within the transmission bell housing. Smaller and more power-dense than a conventional radial flux E-motor, it is capable of generating 95PS and 225Nm and boasts a power density per kilo 33% greater than the system used in the McLaren P1™. The instantaneous nature of the motor's torque delivery – known as 'torque infill' – is key to the car's razor-sharp throttle response. Exhilarating 'off-the-line' performance sees the Artura achieve 0-100km/h (0-62mph) in just 3.0 seconds, with 0-200km/h (0-124mph) taking 8.3 seconds and 0-300km/h (0-186mph) 21.5 seconds. Top speed is limited to 330km/h (205mph).
The E-motor is powered by a battery pack comprising five lithium-ion modules, offering a usable energy capacity of 7.4kWh and a pure EV range of 30km*. The Artura is designed with full Plug-in Hybrid (PHEV) capability and can be charged to an 80% charge level in just 2.5 hours with a standard EVSE cable. The batteries can also harvest power from the combustion engine during driving, tailored to the driving mode selected.
The McLaren Artura is the first model to have the new McLaren Carbon Lightweight Architecture (MCLA) at its core. Designed and manufactured at the McLaren Composites Technology Centre (MCTC) in the Sheffield region, MCLA sets a new standard for McLaren's advanced flexible chassis design.
Inside, the Artura is no less of a revolution, with the cockpit centred more than ever around the driver. The driving mode selection – which retains separate Powertrain and Handling controls – has been moved to the instrument binnacle, which is in turn mounted to the steering column and adjusts with the steering wheel to further enhance driving ergonomics. The McLaren Artura also debuts an all-new Clubsport seat, which uniquely combines the range of motion expected of a moveable backrest with the light weight and support of a bucket seat. Innovative yet uncomplicated, the whole seat pivots as one through an elliptical arc when adjusted, combining under-thigh support, seat height and backrest in one movement. A Comfort seat option is also available.
The driver can choose from four Powertrain modes, including an E-mode for 30km of emissions-free, electric-only driving. Designed for mixed driving conditions, Comfort mode maximises range and efficiency, with the combustion engine shut off under 40km/h with the use of an extended stop and start mode but phased in for greater speed and power requirements. In Sport and Track modes, electric power is deployed in an increasingly aggressive manner for low-end response and acceleration ('torque infill'). Separate handling mode choices adjust damper firmness and the degree of Electronic Stability Control intervention to suit driver preference and weather and road conditions.
Available to order now from McLaren retailers, with first deliveries to customers commencing in Q3 of this year, the Artura is priced in its home UK market from £185,500 for the standard specification. There are three further core specifications: Performance, which has a sporting, functional aesthetic; TechLux, where the focus is on the technical luxury that the name suggests; and Vision, which displays a more avant-garde and adventurous look and feel.
Every McLaren Artura comes as standard with a five-year vehicle warranty, a six-year battery warranty and 10-year body warranty.
Additional Images: click to enlarge