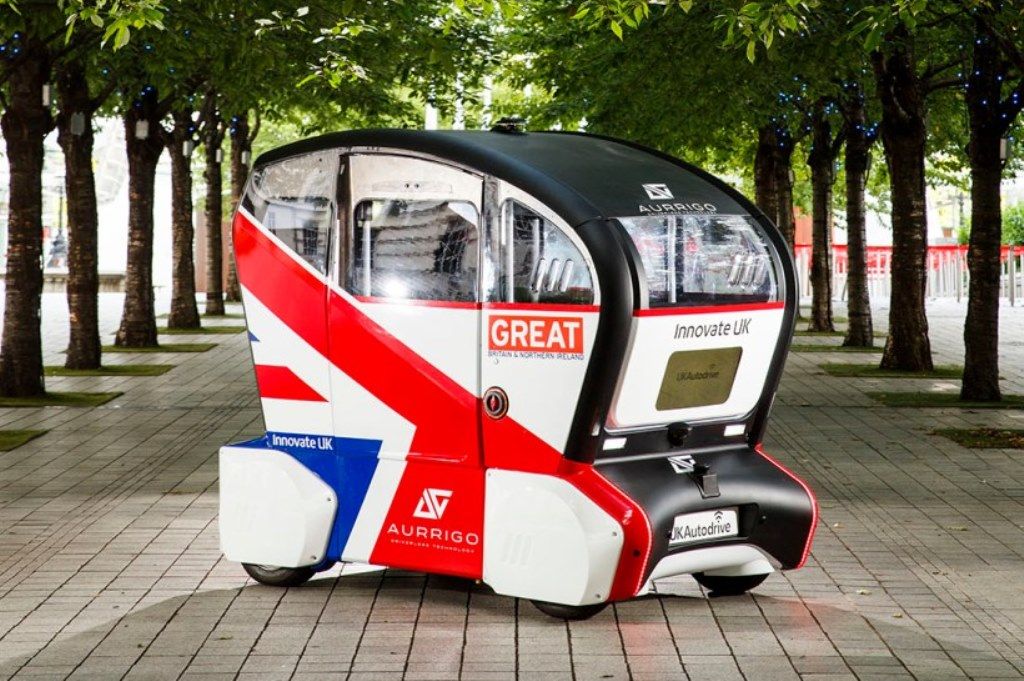 Aurrigo

- PodZero/Pod12 Price:

POA
Last Updated On: 14/05/2021
Aurrigo, a division of the RDM group, currently manufacture two autonomous passenger vehicles, the four seat PodZero and the larger Pod12.
PodZero - (images 1-4)
PodZero is a four seat autonomous pod designed for first and last mile transportation in urban areas, science parks, university campuses, aged care communities and anywhere people need to move around.
Safety is a primary concern, so PodZero is fitted with seat belts as standard and eight emergency stop buttons. The electrically operated doors are fitted with anti-trap mechanisms and internal and external manual override handles should there be a power failure.
Capable of a top speed of 25km/h (15mph) and operational ranges from 40-160km (25-99 miles), PodZero can be specified with a number of battery options, heating and air-conditioning, and various interior features such as screens for information, advertising and two way communications with an external concierge. The steering, braking and drivetrain of the PodZero have been designed and developed by Aurrigo using approved and recognised automotive standards and each of these systems has its own dedicated electronic control unit (ECU).
Launched in 2017 and with sales across the globe, PodZero is available for deployment today.
Pod12 - (images 5-8)
Pod12 is a 12 seat autonomous shuttle. Like PodZero it has been designed for first and last mile transportation, but with a top speed of 50 km/h (31mph), Pod12 can keep up with city traffic and service roads around larger complexes or as a connection between existing mass transit stations and the places people want to go. Launched in 2019, Pod12 will be available for service in late 2020.
Aurrigo's Pod12 self-driving shuttle vehicle is set to transform the way people transport around towns and cities. The shuttle, which comes after the success of their smaller PodZero (four-seat) vehicles, which are already gaining popularity globally, is the world's first conventional electric and autonomous vehicle. The product helps to provide transport for city centres, shopping and care facilities, airports and heritage sites.
Additional Images: click to enlarge