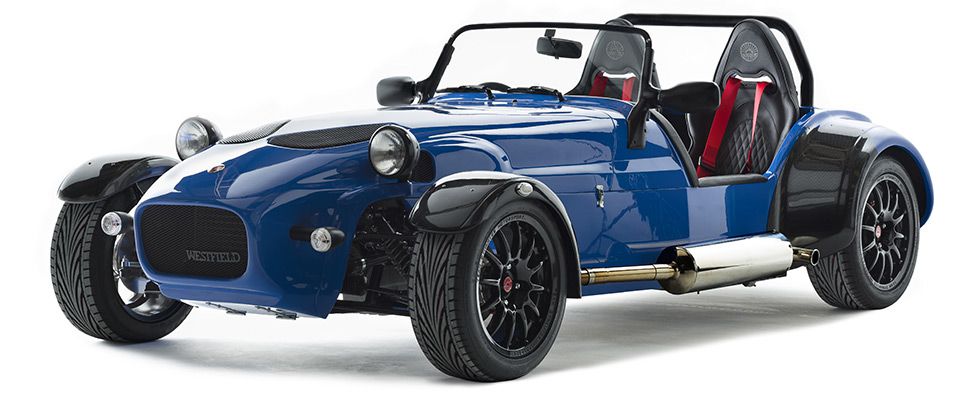 Westfield Sportscars

- Sport/Sport 250 Price:

from £21,810
Last Updated On: 28/05/2020
The Westfield Sport (images 1-4) is an open two seater sports car firmly rooted in the 7 style, where a heater is still an optional extra! It has been specifically designed for everyday road use, but can also be enjoyed to the full on the track. It is powered by a new 2 litre Zetec engine, capable of producing 150bhp.
With road use in mind it comes complete with full weather gear, including roof and sidescreens. Combined with a heated front windscreen and fully trimmed interior, the Sport is a practical proposition for all conditions. There is a long list of optional extras available, including a chrome pack, long range fuel tank, various suspension and brake upgrades, full leather trim and, with track day use in mind, a four point harness, quick release steering wheel and race seats. A Special Edition version is available in two specs: the Classic and FW (Full Width).
A new version of the Sport, the 250 (images 5-8), is the latest addition to the Westfield range and is powered by Ford's 2 litre Ecoboost engine, driven through the highly-regarded Mazda MX5 5-speed gearbox. This is the same powerplant used in the Focus ST and puts out 252bhp. But in a car that weighs less than half the Focus, it can achieve a supercar shaming 0-60mph (97km/h) time of just 3.6 seconds!
The Sport, Sport 250 and Special Editions are also available as self-build projects.

Additional Images: click to enlarge