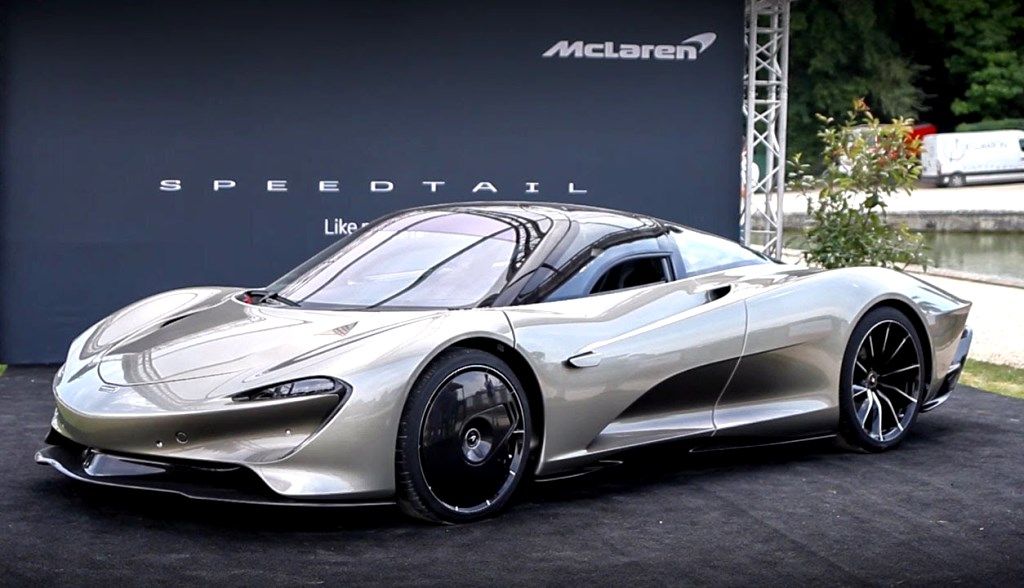 McLaren

- Speedtail Price:

POA
Last Updated On: 20/07/2020
The Speedtail is McLaren's first ever Hyper-GT. Their most aerodynamically efficient car ever and the fastest McLaren to date. With a pioneering 1070PS hybrid powertrain at its core, it brings together unprecedented levels of innovation and elegance to create a new benchmark in automotive design. And offers owners extraordinary opportunity for bespoke personalisation.
The cockpit of the Speedtail is an extraordinary place to be. Innovation touches every element. From the materials design, to the very layout of the interior environment. The heart of the Speedtail's interior is the driving seat. Quite literally. Its central position recalls their very first road car, the iconic McLaren F1. It offers an unparalleled view of the road.
The main controls, including those to start the car, are on a roof-mounted panel. This design philosophy ensures a clean and uncluttered dashboard. Instead, high-definition displays and touchscreens sweep across the cockpit, giving the driver instant access to the controls and enhancing the driving experience.
The finest aniline and semi-aniline hides cover almost every surface, providing a 30-per-cent weight reduction compared to traditional leather, thanks to the air infused beneath their surface during the manufacturing process.
The canopy has been designed to give the driver the best possible visibility and is made from electrochromic glass, which allows the top of the windscreen to be darkened at the touch of a button. The dihedral doors are power-operated and feature single-piece 'wrapover' lightweight glazing. It's one of the many bespoke features that help the Speedtail set a new standard in bespoke personalisation.

The Speedtail is the most aero-drag-efficient road car ever produced by McLaren. This has been achieved by the exceptional design of the dramatically elongated body and the teardrop-shaped cabin, and the painstaking aerodynamic development. Add in ground-breaking innovations such as the front-wheel static aero-covers, the retractable rear-view cameras in lieu of wing mirrors, and the active rear ailerons, and the result is a car capable of reaching an astonishing 403km/h (250mph) – a top speed higher than any other McLaren to date.
Powering the Speedtail is a pioneering petrol-electric hybrid powertrain producing a combined 1,050PS – sufficient to accelerate the Speedtail from 0 to 300km/h (0 to 186mph) in 12.8 seconds. Transferring that staggering performance to the road are bespoke P-ZERO™ tyres developed with McLaren technology partner Pirelli.
McLaren plan to build just 106 examples of the Speedtail.
Additional Images: click to enlarge