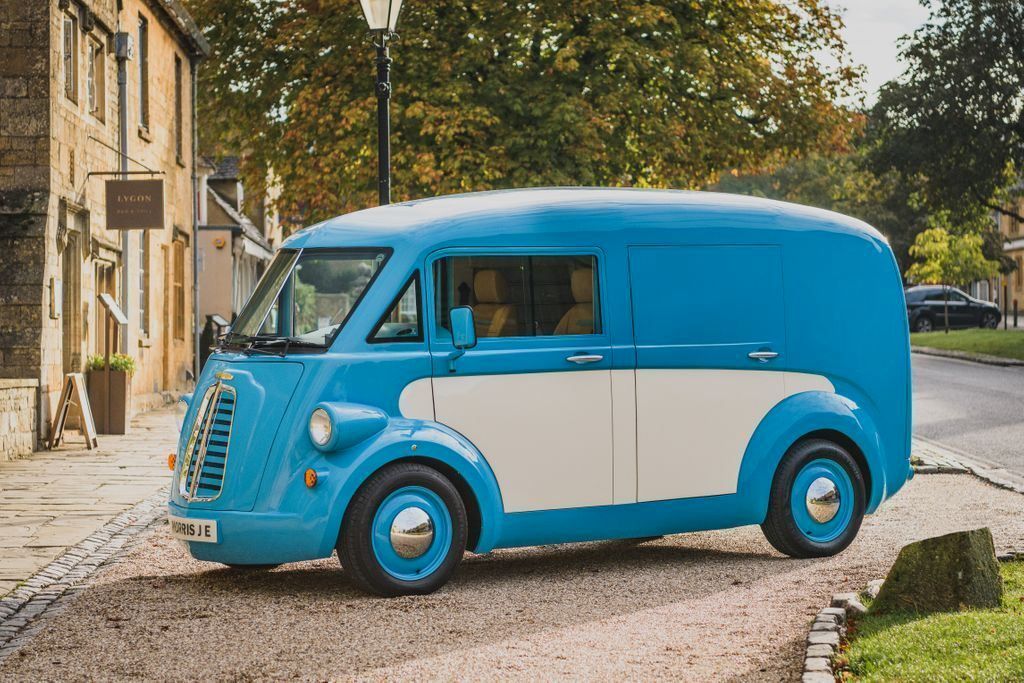 Morris Commercial

- Morris JE Price:

£60,000
Last Updated On: 14/05/2021
The new all-electric Morris JE reimagines classic British design and inherits DNA from the iconic 1950s Morris J-type. The new EV retains the unique pear-shaped grille that defined the original 'J' and is finished with a gorgeous curved roof and finely proportioned curvaceous body. Offered with an unrivalled level of customisation, the Morris JE can be tailored to reflect a customer's taste, personality and corporate identity.
Carefully curated interior colours and materials mirror and complement a retro and contemporary palette of exterior colours. Driver and passenger seats are trimmed using premium leather with contrast stitching and embroidered Morris Commercial logo. A classically-inspired, soft-touch leather steering wheel complements the interior. The unique and stylish loading bay is fitted with high-quality materials and useful storage spaces, and very careful attention to detail.
With a state-of-the-art lithium-ion battery powertrain, and featuring a modular chassis and carbon-fibre composite body construction, the JE is one of the lightest light commercial vehicles in the marketplace. The JE's graceful lines are preserved, with no exterior rail down the side of the vehicle, due to the uniquely-designed door hinge. A high-resolution infotainment system incorporates navigation, multiple parking cameras and many other functions. The new Morris JE is vehicle-to-grid ready. Future developments will include the legally permitted level of autonomous driving technology.
With outstanding power-to-weight efficiency and the latest in battery technology, the new Morris JE is expected to have a range of 200 miles and boasts a top speed of 90mph (145km/h). Rapid charge enabled, (80% charge can be achieved in 30 minutes), the JE's charge port is discretely positioned out of sight behind the iconic pear-shaped grille. With instantaneous torque providing a quick take-off and smooth drive – the efficient JE is perfect for all day driving. Fully automatic driving and regenerative braking help to conserve driver energy and extend vehicle range.
Utilising a unique curved design and body over powertrain configuration, the Morris JE retains the reputation of being a "big" little van from the original J-type. The JE has 5.5 cubic metres of load space, room for two standard Euro pallets, items up to 2.4 metres in length and a payload of up to 1,000kg. The Morris van will never be short of space. With a low floor accessible by two rear doors that open up 240 degrees and a large sliding side door - loading and unloading cargo is fast and efficient.
Providing fantastic advertisement opportunities with real-world commercial capabilities, the Morris JE offers outstanding versatility. Attractive to small boutique businesses that crave individuality as well as larger corporate fleets, the vehicle's distinctive aesthetics provide eye-catching mobile marketing solutions. With pickup and minibus derivatives soon to follow, there will be a Morris JE to suit all private and business requirements.

Additional Images: click to enlarge