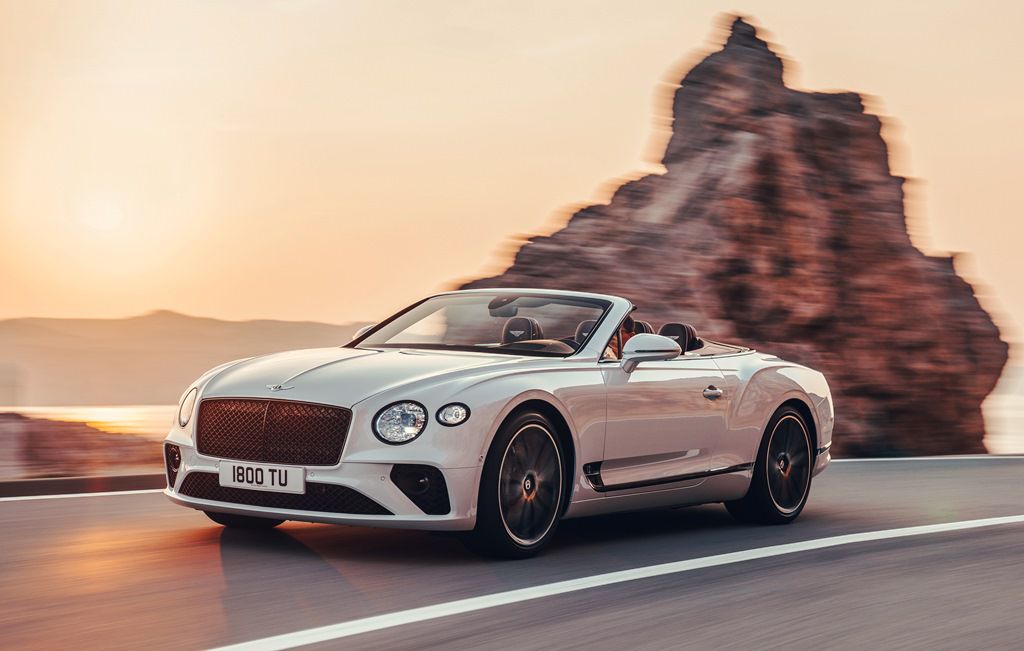 Bentley

- Continental GT Convertible Price:

from £167,000
Last Updated On: 06/05/2020
The new Bentley Continental GT Convertible sets new standards in craftsmanship, elegance and style. Designed and built by hand at the Bentley factory in England, it takes the exhilaration of open-air grand touring to thrilling new heights.
Sharing the same breath-taking styling of the new Continental GT, the new Continental GT Convertible is truly extraordinary. Every inch a grand tourer, it features a sleek, new Bentley design language, characterised by sharp lines sweeping the length of the car.

Low, wide proportions lend the car an air of power and presence – an effect emphasised by every detail, from cut crystal-effect LED matrix headlamps to LED tail lamps that resemble illuminated red gemstones. With the four-layer insulated roof closed, the new Continental GT Convertible exudes sophistication.
The tailored convertible roof can be deployed or stowed in just 19 seconds, with the car travelling at speeds of up to 30 mph (50 km/h). This transforms the Continental GT Convertible from a luxurious coupe into an open-top Grand Tourer at the touch of a button. Seven different fabric hood colours are available, including an authentic tweed finish for the first time (image 8).
Inside, a continuous ring of handcrafted veneer sweeps from the fascia into the doors, encircling the driver and front passenger. Design cues pick up on the exterior lines, for seamless style when the roof is down. From dual veneers and diamond knurling to the stunning Bentley Rotating Display, the interior of the new Continental GT Convertible represents the ultimate in British automotive craftsmanship.
The new Continental GT Convertible also showcases major evolutions in Bentley's unique application of technology. An advanced, fully digital, driver-focused instrument panel and Bentley Rotating Display for the driver are among the suite of innovations. The latter features an impressive 12.3" touchscreen housed in a three-sided unit, which revolves from pure veneer to reveal either a touchscreen or three elegant analogue dials – offering customers the option of a digital detox when desired.
A powerful 6.0-litre Bentley W12 engine is mated to a dual-clutch eight-speed transmission. [WLTP drive cycle: fuel consumption, mpg (l/100km) - Combined 20.2 (14.0). Combined CO₂- 317g/km. NEDC drive cycle equivalent: fuel consumption, mpg (l/100km) – Combined 22.8 (12.4). Combined CO₂ - 284g/km.]
The new powertrain uses the latest engine management technology to produce 635 PS (626 bhp) and 900 Nm (664 lb.ft.) of torque, and accelerate to 100 km/h in 3.8 seconds (0-60 mph in 3.7 seconds), on to a top speed of 333 km/h (207 mph).
To celebrate the arrival of the new Continental GT Convertible, a limited number of First Edition cars will be built. Rare, collectible and extremely luxurious, they feature unique design details, including a First Edition exterior badge and a First Edition fascia badge.
A V8 powerplant has recently been added to the Continental GT Convertible range, as found on its predecessor. The new Continental GT V8 Convertible is exceptionally responsive, with astonishing powers of acceleration that can take you from 0 to 60 mph in 4.0 seconds (0 to 100 km/h in 4.1 seconds) and on to a top speed of 198 mph (318 km/h)*.
You won't just feel the power of this remarkable car as you accelerate, you'll hear it too, with the gratifying burble of the Bentley V8 engine particularly rewarding when the roof is down.
* All technical data is based on the North American drive cycle and is provisional, subject to Type Approval.
Additional Images: click to enlarge