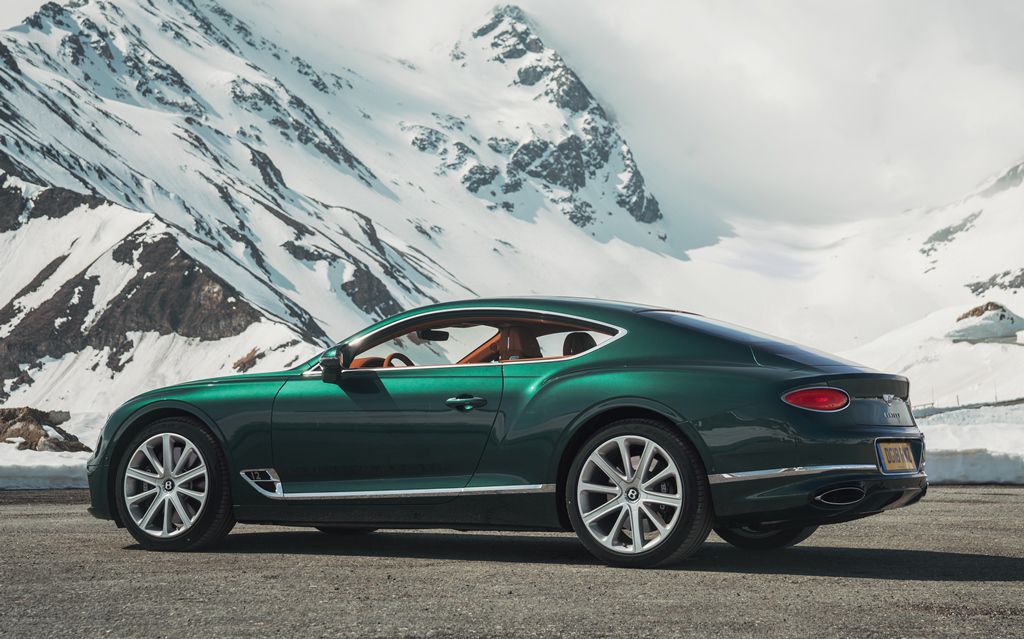 Bentley

- Continental GT Price:

from £151,800
Last Updated On: 29/10/2019
Designed, engineered and handcrafted in Britain, the new third-generation Bentley Continental GT combines spirited, focused performance with handcrafted luxury and cutting-edge technology, to create the finest Grand Tourer ever produced.
At the heart of the new Continental GT sits an all-new, enhanced version of Bentley's renowned 6.0-litre, twin-turbocharged W12 TSI engine, mated, for the first time, to a dual-clutch eight-speed transmission, for faster, more efficient gear changes. The new powertrain uses the very latest engine management technology, with 300 million software calculations per second. It produces 635 PS (626 bhp) and 900 Nm (664 lb.ft.) of torque, and accelerates the new Continental GT to 100 km/h in 3.7 seconds (0-60 mph in 3.6 seconds), and on to a top speed of 333 km/h (207 mph).
The dual-clutch eight-speed transmission provides smooth acceleration, and impressively quick gearshifts, both hallmarks of the Continental GT's dynamic character, as well as improved combined fuel economy (23.2 mpg or 12.2 L/100 km versus the previous model's 19.9 mpg or 14.2 L/100 km).
A new, technically advanced, adaptive chassis uses Bentley's intelligen 48-volt Dynamic Ride System to ensure a responsive ride and exceptional handling and refinement in all road conditions. The new system controls ride comfort and lateral roll, cushioning passengers from excessive movement as well as making the car feel effortlessly precise.
The muscular exterior design, created using revolutionary technology, results in a lightweight, yet stiff, body. The engine is positioned further back to improve weight distribution, resulting in driver-focused, dynamic performance.
Offering four seats and improved luggage capacity for genuine real-world usability, the new Bentley Continental GT's luxurious cabin is packed with exquisite details such as a new 'diamond in diamond' leather design. In addition, significant work has gone into harmonising the extensive portfolio of 15 colours across hides and carpets.
The new Continental GT also showcases major evolutions in Bentley's unique application of technology. An advanced, fully digital, driver-focused instrument panel and Bentley Rotating Display for the driver are among the suite of innovations. The latter features an impressive 12.3" touchscreen housed in a three-sided unit, which revolves the veneer to reveal the touchscreen as well as three elegant analogue dials.
A V8 powerplant has recently been added to the Continental GT range, as found on its predecessor. The result is a car that can accelerate from 0 to 60 mph in 3.9 seconds (0 to 100 km/h in 4.0 seconds) and take you to a top speed of 198 mph (318 km/h)*
* All technical data is based on the North American drive cycle and is provisional, subject to Type Approval.
Additional Images: click to enlarge