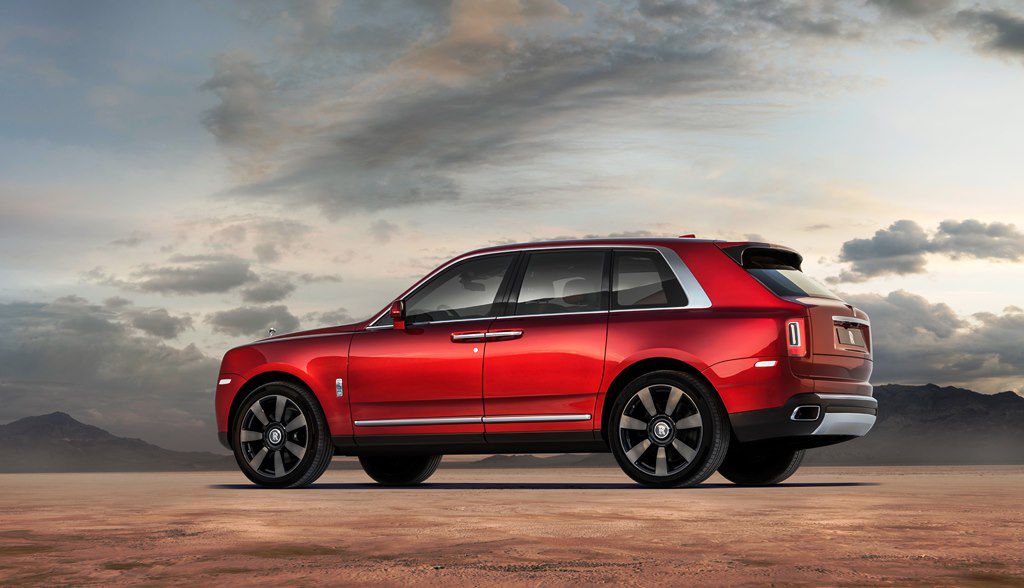 Rolls-Royce

- Cullinan Price:

from £264,000
Last Updated On: 10/05/2021
The new Rolls-Royce Cullinan is what the company calls an 'all-terrain high-bodied vehicle' and definitely not an SUV. The name is taken from the famous Cullinan Diamond discovered in South Africa in 1905. However, this is the company's first venture into the partial off-road world and it is perfectly placed to compete with the Bentley Bentayga at the very top end of the market.
Powering the Cullinan and the off-road capability is a 6.75 litre twin-turbo V12 engine, as in the latest Phantom, which delivers 563bhp and 850Nm of torque to that new all-wheel drive, all-wheel steer system. Top speed is an impressive 155mph (249km/h). Again, as with he new Phantom, the Cullinan is the second new Rolls-Royce to sit on its aluminium architecture, a proprietary all-aluminium spaceframe structure designed in-house that is approximately 30 per cent more rigid than the spaceframe architecture on the Phantom VII.
To assist that 4x4 action in the effortless style Rolls-Royce clients are accustomed, the car can deliver that 850Nm of torque at just 1,600rpm while a new double-wishbone front axle and 5-link rear axle allow control over lateral roll and shear forces for stability.
The Cullinan is a real technical tour de force, with a 'Flagbearer' stereo camera system integrated into the windscreen which 'sees' the road or terrain ahead, adjusting suspension proactively rather than reactively at up to 100km/h (161km/h), whilst Satellite Aided Transmission sets the car up for coming twists and turns.
The interior (images 5-7), is everything you would expect from a Rolls-Royce of any kind in 2018. Extreme luxury and comfort is matched only by clever technology and interior layout. For instance, a 'Viewing Suite', which consists of two rear-facing leather chairs and a cocktail table that electrically glide out of the tailgate at the touch of a button, is offered as an option (image 4).
As with the other Rolls-Royce models, the Cullinan is also available in the Black Badge specification, which is designed to appeal to younger luxury car buyers. An increase in power, the car's underpinnigs tuned for a slightly sportier drive and the classic features finished in high-gloss black chrome, including The Spirit of Ecstasy and the iconic radiator grille, are among the special items on offer, with other bespoke options available..

Image 8 shows Rolls-Royce Motor Cars CEO Torsten Müller-Ötvös with the Cullinan.

Additional Images: click to enlarge