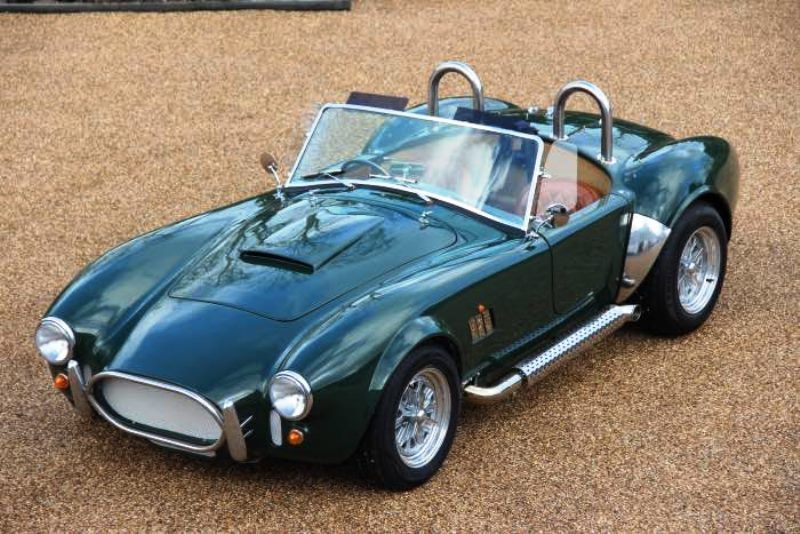 Pilgrim Motorsports

- AC Cobra replica Price:

from £55,000 OTR
Last Updated On: 06/08/2019
The Pilgrim Motorsport's AC Cobra replica is a competitively-priced recreation of the iconic 60s Cobra sports car, probably the most recognised body shape after the Lotus Seven style.
The roadster is powered by a mighty Chevrolet 5.7 litre V8, being fuelled by a 4 pot Edelbrock carburettor and inlet manifold and features twin 3" stainless steel sidepipe exhausts. It has a power output of 300bhp and is driven through a 5-speed manual gearbox.
Even in standard form the interior of the Pilgrim boasts fluted leather bucket seats, a cushioned leather trimmed dashboard and door cards, leather gear stick and handbrake gaiters, with piped edge carpets in a great variety of colours. Alloy grips on the gear stick and handbrake and a wood riveted steering wheel all add to the period replica feel.
The standard car also comes with Halibrand replica wheels and spinners, twin rollbars, a soft top and sidescreens together with wind wings and sun visors. A GRP hardtop complete with slide opening side windows is available from the options list (images 3-4). There is a wide choice of specification, body colour and interior trim combinations.
The car is strongly constructed around a rigid, box frame semi-monocoque design chassis, with particular attantion paid to strength and safety. The car now features serious side impact protection at both floor and door level, with a deformable crash structure at the front. The GRP body is manufactured on-site.
This roadster is available in RHD or LHD and is built to order. Build time is usually between 10-12 weeks from date of order.
The Pilgrim AC Cobra replica is also available as a self-build project.
Additional Images: click to enlarge