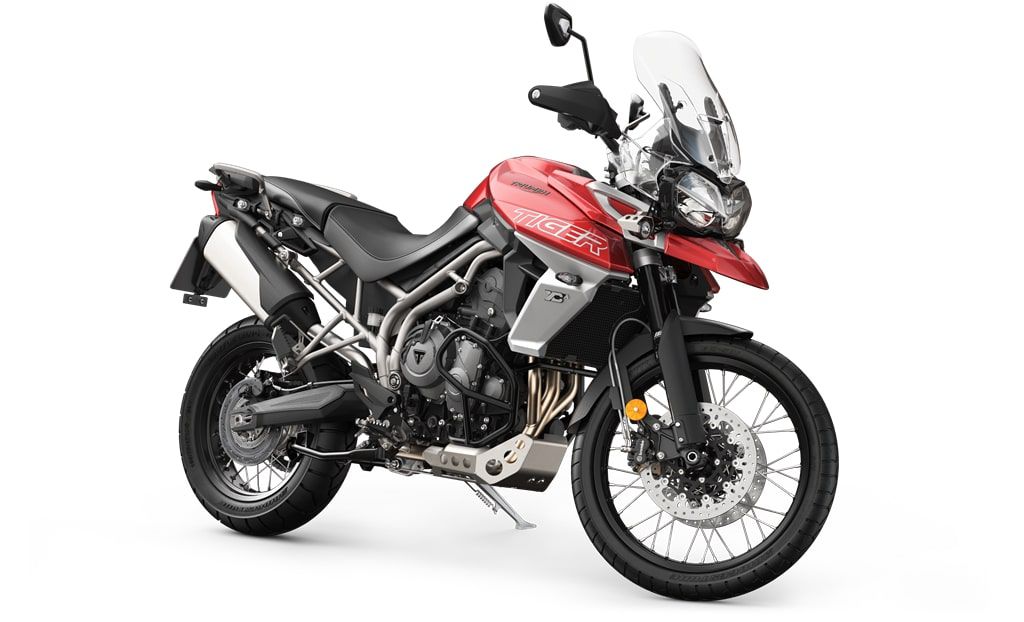 Triumph Motorcycles

- Motorcycle Range Price:

from £8,100 OTR
Last Updated On: 03/08/2019
Triumph Motorcycles currently manufacture a very wide range of motorbikes, covering most usage categories, including the iconic Modern Classics series.
Adventure: whether you choose motorways or mud tracks, twisty tarmac or bumpy town streets, Triumph's range of adventure and touring motorcycles all share your passion for travel and discovery. Together with Triumph, the spirit of your adventure lives on.
The Adventure range consists of the Tiger 800 (image 1), Tiger 1200 and Sport
Cruisers: to the onlooker, Triumph Cruisers could be mistaken for being just about pure classic cruiser style. But one ride tells you that our cruiser motorcycles are about surprising levels of agility and performance in a bike that can deliver an engaging ride every day. They just happen to do it with that pure classic cruiser style.
The Cruiser range currently consists of just the Thunderbird (image 2).
Modern Classics: more power, more perormance. The new heart of a British Twin. The all new Bonneville engine comes in three configurations: the 900cc high torque engine of the Street Twin, the 1200cc high torque engine of the Bonneville T120 and T120 Black and the high power 1200cc 'Thruxton Spec.' engine for the Thruxton and Thruxton R. All with more immediate and exciting power delivery, that can be heard as well as felt.
The Modern Classics range is by far the largest in Triumph's current offerings and consists of : the Street Twin, T100, Street Cup, Street Scrambler, Bonneville T120 (image 3), Bonneville Bobber (image 4), Thruxton (image 5) and Bonneville Speedmaster (image 6).
Roadsters: the approach to their roadsters is simple. If it doesn't enhance the power, handling, feel or sound of the bike it doesn't go on it. If it does, it goes on the bike in precisely the right place. As a result Triumph roadsters have a streetfighter look that's muscular, hunched forward, mean and aggressive. Because that's what they are. Unadulterated, focussed, engaging sports bikes for the street.
The Roadster range consists of the Speed Triple (image 7) and Street Triple (see image 8).
The current range of 14 distinct models consists of a total of 32 variations.
Please Note: Not all Triumph motorbikes are currently built in the UK, as production locations change from time to time. Please contact Triumph Motorcycles direct for further information.
Additional Images: click to enlarge