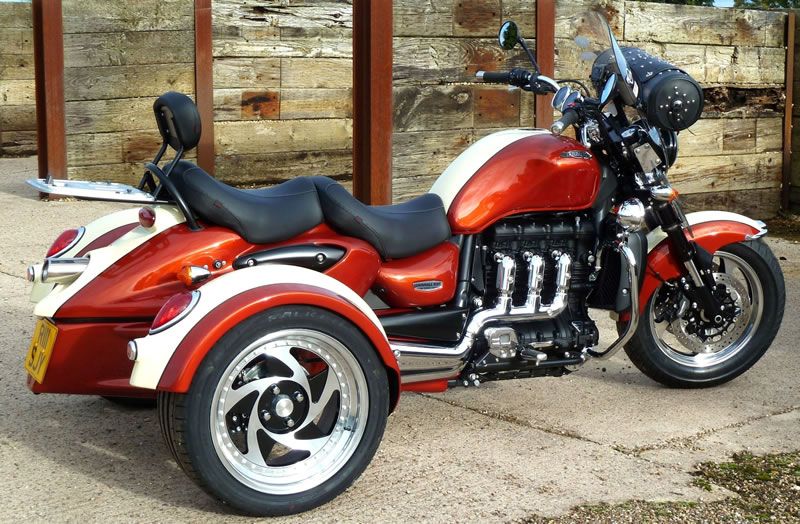 Grinnall

- R3T Price:

POA
Last Updated On: 14/05/2015
The Grinnall R3T is undoubtedly unique in the trike market. Based on Triumph's brilliant and much-acclaimed, shaft driven Rocket 3, the R3T performs like no other trike. And its styling, by Steve Everitt Automobile Designs Ltd, so compliments the original lines that it might have been penned at Triumph's own design studios in Leicestershire.
As well as the range of Grinnall options, Triumph has created nearly 50 additional accessories to allow owners to add their personal touch to their machines.
The 4 valve per cylinder, 2300cc, fuel injected, three cylinder in-line motor (north /south crankshaft alignment) sets new power standards for cruisers (and trikes!) with a massive 147lbs/ft of torque, accelerating the R3T to 100mph (161 km/h) in around 10 seconds, and on to a top speed of over 120mph (193 km/h). This behemoth of a trike will eat a Gold Wing for breakfast!
The strikingly styled GRP body is spray-painted in the best materials available, and colour matched to the original Triumph range. Alternatively, you can choose from a wide range of custom colours. Bespoke 3-piece, billet rear wheels by Image compliment the style of the front wheels and are shod with 225/45/17 Toyo tyres. There is also an optional 275/35/18 rear tyre for those who prefer a beefier look, with mudguards to match.
The standard Rocket 3 bike passenger seat has been replaced with a larger additional rider seat for the pillion, providing luxury comfort to make long distances a breeze. There are two choices of handlebars, as well as foot boards for both front and pillion passengers for maximum comfort. For the rider, there is also an optional adjustable back rest.
Whilst prioritising safety and rider and passenger comfort, considerable thought has been devoted to making the R3T an ideal tourer, so there is proper provision for your luggage. A key operated drop-down tail section hides 25 litres of space.
Additional Images: click to enlarge