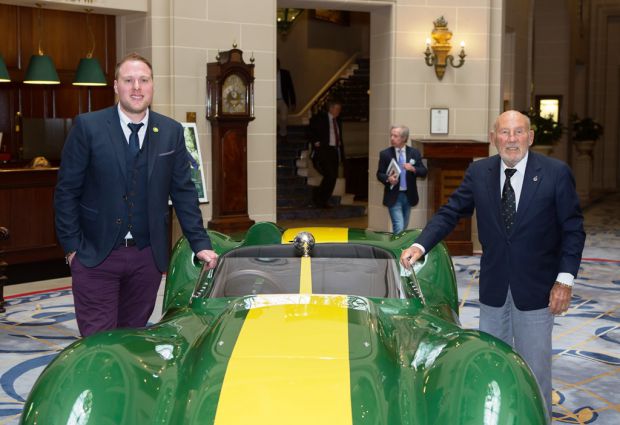 Lister to build a new 'Knobbly' Stirling Moss Edition
28th June 2016
Lister Motor Company is proud to announce the launch of a limited run of 10 special edition cars, the Lister Knobbly Jaguar Stirling Moss, with each car featuring a handmade magnesium body and special lightweight specification – just like the original 'works' racing Knobblys of the 1950s.
These cars follow on from an initial run of 10 aluminium-bodied continuations – now all sold out – production of which began in 2014 at George Lister Engineering. Each is built using the same techniques as the original 1950s Knobbly, following the acquisition of Lister Motor Company by Andrew and Lawrence Whittaker in 2013.
The 10 Stirling Moss editions will celebrate Moss's races for Brian Lister in the 'works' racing cars in the 1950s. While some original Lister Knobblys are still campaigned in historic racing, none of the original magnesium-bodied 'works' cars survive, making this limited run an incredible opportunity for collectors and Lister enthusiasts.
To keep ahead of customer cars and other rivals in the 1950s, Brian Lister reserved a special lightweight specification for his 'works' Knobbly racing cars – with one of the main features being a magnesium body.
Magnesium is an exceptional material, lightweight but difficult to source and expensive. It is also time-consuming to work with as it is very hard to form, requiring incredible skill and craftsmanship. As a result, Lister has invested hugely in research and development into how to work with magnesium and produce perfect, hand-turned bodywork.
All 10 Lister Jaguar Knobbly Stirling Moss editions will faithfully feature the same specification as the 'works' car with which Moss won at Silverstone in 1958. Key features of the Lister Jaguar Knobbly Stirling Moss edition are:
Bodyshell manufactured from lightweight magnesium with aerodynamic low-drag Long Wing Design front wings
Engine sump manufactured from magnesium
Clutch and differential casing manufactured from magnesium
Lightweight tubular steel chassis
Solid sterling silver number plaque 1 to 10 with Sir Stirling Moss's signature engraved
Classic Lister green and yellow paint, matching the original 1950s design
Each one of the 10 owners will receive a handover from Sir Stirling Moss and a personal welcome letter from the legendary racing driver.
Every Stirling Moss edition will be built at exactly the same factory as the standard lightweight Knobbly: George Lister Engineering in Cambridge. The chassis will be made using exactly the same jig as was used for the first Knobbly, while the bodies will be formed around the same styling buck too.
Customers can choose to have their car in racing specification or as a fully type-approved road car, with a bespoke interior tuned to their individual tastes whatever specification they choose. Historic racing versions will come with a full FIA HTP passport, allowing entry into the Stirling Moss Trophy among other blue riband races on the historic racing calendar.
Each car will be priced from £1 million with first deliveries in autumn 2017.
Older

Articles