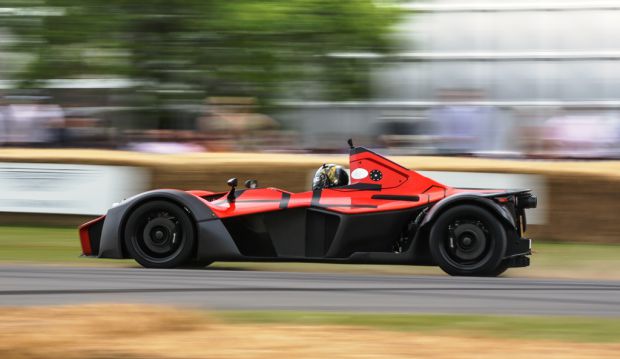 2016 Model Year BAC Mono debuts at Goodwood
8th July 2015
BAC introduced the 2016 Model Year Mono to the world at this year's Goodwood Festival of Speed, with an unofficial road car record-breaking run on the famous hillclimb. With a series of runs comfortably sub 50-seconds, and a fastest time of 47.9, the Mono is able to compete with many dedicated racing cars.
With BAC test driver Oliver Webb at the wheel, the Goodwood hillclimb time was set in BAC's 2016 Model Year Mono, featuring an all-new 2.5-litre Mountune four-cylinder engine producing 305bhp – that's up 25bhp on the previous 2.3-litre Cosworth engine. The revised car weighs in at just 580kg giving an incredible 526bhp per tonne. The new 2016 Model Year Mono also includes a drive-by-wire throttle as well as a bespoke driver fitment culminating in a custom steering wheel and seat tailor-made for the owner.
The BAC Mono already has an impressive list of records to its name. It is officially the second fastest road legal car around the Top Gear test track, with a time of 1:14.3.In recent testing at the Hungaroring, Oliver Webb revealed just how fast the Mono is, as it lapped the circuit in 1:55, 9.5 seconds faster than a Porsche 911 GT3, 7 seconds faster than a Ferrari Speciale and an incredible 4.5 seconds faster than a McLaren P1.
The success at Goodwood reflects a wider momentum within the BAC brand, with a new dedicated factory for design and build based in Liverpool giving a capacity for producing one car per month in current specification. With the factory located next door to Liverpool Airport, and the support of the city behind it, BAC can also uniquely claim to be the only car manufacturer that has the rights to use a working regional airport on which to test and shakedown customer cars.
BAC work to a coherent strategy and this has enabled them to focus on cutting-edge product development and commercialisation via key export markets in the US, South America, Japan and Asia. As the company grows rapidly, it is developing partnerships with complementary luxury companies, and BAC becoming increasingly known as a unique British brand in the top tier of the global luxury market.
Older

Articles