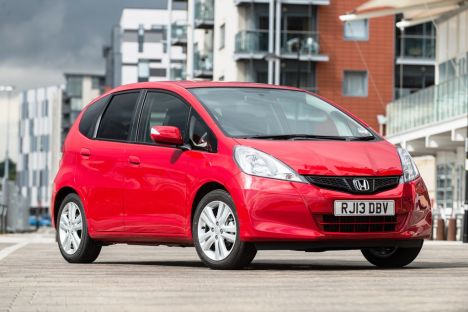 Honda Jazz crowned most reliable car in 2014 Auto Express Driver Power Survey
24th April 2014
Honda's popular Jazz supermini has scooped the Most Reliable Used Car in the Auto Express Driver Power survey, with an impressive reliability score of 98 per cent.
Up 1.2 per cent on 2013, the British-built Honda Jazz climbed two places to take the top podium finish in this year's results. The 2014 Auto Express Driver Power survey asked more than 50,000 car owners to rate their used cars in ten different categories including reliability, performance, road handling and practicality. The Honda Accord was also placed highly, with a score of 95 per cent, earning fourth place in the build quality category.
Philip Crossman, Managing Director, Honda (UK) commented; "This is great news for Honda and a testament to the great cars we manufacture here in the UK. The Jazz has always been a strong performer in terms of reliability and the 2014 Auto Express Driver Power Survey award further reinforces the success of the car".
The Auto Express Driver Power Survey is Britain's most influential car reliability and satisfaction survey, with more than 50,000 customer and readers taking part in this year's poll. The survey reveals the top 150 cars, new and used, to own in 2014.
The award follows a string of recent successes for the Jazz and for Honda cars on the whole. Honda Jazz variants took the two top spots in the 2013 Which? Car Survey Supermini Best Buy category. Owners placed three Jazz variants in the Supermini chart top ten, taking first and second with the current models. As a further boost, Honda cars feature prominently throughout the survey as being amongst the most reliable in their categories, with older and newer generations featuring alongside one another.
Older

Articles