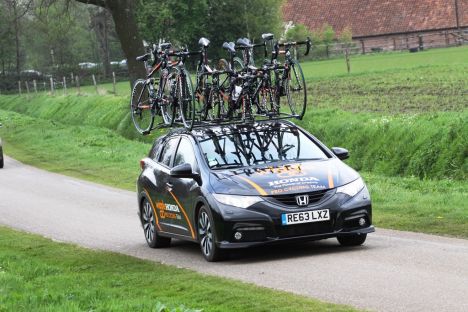 British-built Hondas to support Wiggle Honda pro cycling team in 2014
17th April 2014
A selection of British-built Hondas will support the Wiggle Honda Pro Cycling Team as they pedal their way through an action-packed calendar of international races and events during 2014.
Honda will provide a mixture of Civic Tourers and CR-Vs in Wiggle Honda branding for the team to use as support vehicles. The team will make the very most of the practicality and versatility offered by both models, as well as the power, performance, refinement and fuel economy needed for many thousands of miles on the road.
Entering its second year of competition as Wiggle Honda Pro Cycling, the truly international line-up of female riders is packed with medal-winning British talent, with Great Britain's World and Olympic Track champions Laura Trott, Dani King and Joanna Rowsell leading the charge. World Track Champion Elinor Baker and the talented Amy Roberts complete the five-strong British contingent, bringing further strength and power to all areas of the team.
This season will see the Wiggle Honda Pro Cycling team compete in the UCI Elite Women's peloton, once again led by former two-time road World champion and world number four Giorgia Bronzini, from Italy, who took an incredible 17 victories last year. The team has been further strengthened with the talents of Swedish champion Emilia Fahlin, former Spanish champion Anna Sanchis and former World champion, Charlotte Becker, from Germany.
Both Honda and the team are looking forward to another successful year and cycling fans in the UK will get the chance to see the riders in action in the 'Women's Tour' (www.womenstour.co.uk), which takes place from 7 to 11 May across the east of England. The Tour is Britain's first stage race for women, featuring the best riders in the world, including Olympic and World Champions. Check out the Wiggle Honda athletes in action preparing for the race here - https://www.youtube.com/watch?v=CO4KTGvm4Kw
Older

Articles