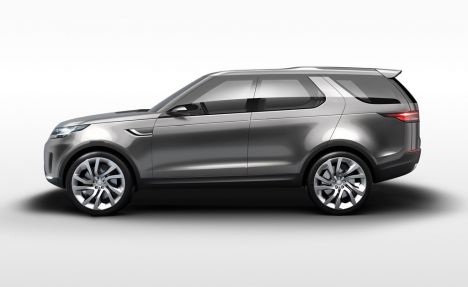 Land Rover unveils new Discovery concept
15th April 2014
GAYDON, UK, 15 APRIL 2014: Land Rover today revealed its Discovery Vision Concept SUV in New York. It is a vision of Land Rover's future family of Discovery vehicles, the first model of which is due in 2015. The concept car previews dynamic new design language and an array of innovative versatility and capability features, while also showcasing pioneering technologies from Jaguar Land Rover's advanced research division.
The Discovery Vision Concept was unveiled alongside a scale model of the Virgin Galactic spacecraft at a spectacular event aboard the USS Intrepid – a sea, air and space experience centre – in Manhattan, a day ahead of the opening of the New York Auto Show 2014.
With the Discovery poised to transition from a single model to a new family of vehicles which will redefine the leisure SUV category, the Discovery Vision Concept offers an exciting preview of Land Rover's vision for the range, and the modern, premium design language of future models.
Phil Popham, Group Marketing Director, Jaguar Land Rover, said:
"We announced at the Geneva Motor Show in March that the Discovery family is set to evolve. And it is apt that in the 25th anniversary year of the original Discovery that we preview how this evolution will take us forward into a daring new era. The Discovery Vision Concept gives us the first stunning glimpse into this hugely exciting future."
Older

Articles