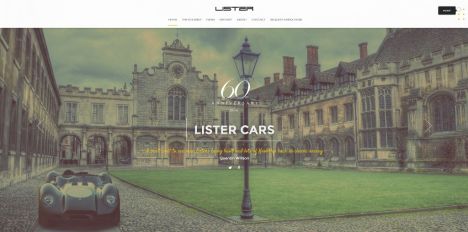 Lister Motor Company unveils stunning new website
3rd April 2014
The Lister Motor company is proud to announce the unveiling of its brand new website. The site has been launched today to celebrate the car manufacturer's 60th anniversary, and to coincide with the first Lister Jaguar 'Knobbly' to roll off the production line in over 20 years.
The new site can be found at the existing URL www.listercars.com and is sure to get pulses racing with its well balanced mix of unique design and traditional values. Focus is on the company's roots in Cambridge, while incorporating branding from the original 1950s Lister racing company, as well as the more recent Lister Storm era of the 80s, 90s and noughties.
Racing and motoring enthusiasts are given access to a plethora of mouth-watering imagery, as well as insight in to the history of the company and latest news. One of the main elements of the site describes the Lister 'Knobbly' in tremendous detail, with Lister building 10 of these astoundingly beautiful cars in the coming months. Those interested in buying a 'Knobbly' can request delivery of the official brochure directly through the homepage.
Lawrence Whittaker, CEO of the Lister Motor Company, said: "I just love how the site has captured everything that the Lister brand represents. We have here a website that matches the authenticity, history and prestige of Lister perfectly. 2014 is a big year for us as we celebrate our 60th anniversary and complete the first 'Knobbly', and 2015 will be even bigger as it will be 125 years since Lister first graced British manufacturing. It is a credit to the company to have been a constant for so long, and we are immensely proud to be part of something so special"
Older

Articles