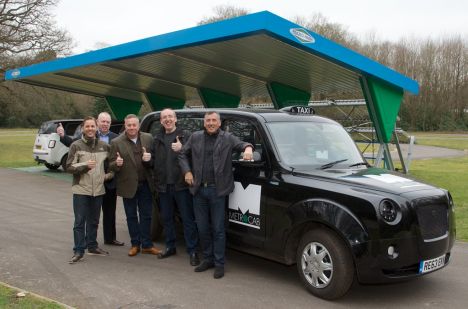 London cabbies are the first to test drive the all-new zero-emissions Metrocab
2nd April 2014
The all-new British-built and engineered Range Extended Electric (REE) Metrocab has been tested for the first time by London's taxi drivers and Mayor Boris Johnson.
Licensed Taxi Drivers Association (LTDA) General Secretary Steve McNamara, and London Cab Drivers Club (LCDC) Chairman Grant Davis, visited Metrocab's Surrey testing facility with their respective members to evaluate the Metrocab from a passenger and driver perspective.
Following static observations the Metrocab was experienced first-hand on the test track and the association members were left impressed by the Metrocab's power delivery, ride quality and handling prowess. Summarised by Grant Davis "like nothing I have ever experienced before", Steve McNamara added that its introduction "could be a game changer."
London Mayor Boris Johnson said: "It's superb, an absolutely beautiful machine and a masterpiece of British engineering. I have just driven it and it's totally silent. It's the Rolls Royce of taxis and it will do 100mpg."
Steve McNamara commented further: "It's a smooth, quiet, electric vehicle. I'm a great fan of them and I think they are the future. Not just because of the emissions and environment but the silence. The worst thing about sitting in London traffic is sitting alongside noisy buses and diesel cars."
Grant Davis added: "Our members drove it today and everyone said they were impressed, amazingly impressed. I think the Metrocab gives the cab trade in London a great new future."
The Metrocab's REE technology delivers a range of 560km, typically saving a London taxi driver £20-£40 per day based on the average day and night duty cycle in the capital.
Metrocab Regional Operations Director Gordon Dixon concluded: "It has been an extremely useful exercise for Metrocab to gain feedback from key figures from London's leading taxi associations and Mayor Boris Johnson. Taxi drivers spend anywhere between eight to ten hours per day behind the wheel, so these are the people that really matter and their comments will help shape our development programme which will see the first new Metrocabs take to the streets of London this summer."
Older

Articles