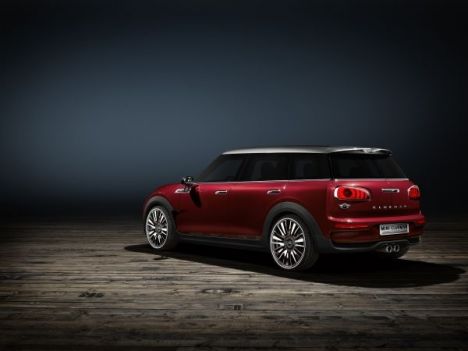 First six door MINI announced!
26th February 2014
At the 2014 Geneva Motor Show MINI presents the MINI Clubman Concept, showcasing a new brand philosophy for a higher class of automobile. 26 centimeters longer and just under 17 centimeters wider than the current MINI Clubman, the Concept comes over as sophisticated, cool and elegant. The iconic design is supplemented by high-quality details, plenty of space for functional features and selected materials. Refinement of the hallmark MINI styling ensures instant recognition, both on the exterior and the interior. The extensive colour and material concept redefines contemporary elegance and high-end quality in this segment.
Four doors and five seats offer plenty of utility space, thereby supporting an active lifestyle.
Classic MINI design features such as the hexagonal radiator grille, Side Scuttles, the Black Band, short overhangs and elliptical front and rear headlights ensure high recognition value from every angle.
Length: 4223 mm, width: 1844 mm (not incl. mirror), height: 1450 mm.
Integrated aerodynamics as an essential part of the exterior design.
The interior design interprets typical MINI shapes and colours, presenting an effortless and elegant combination of high-end quality and functionality.
An elaborate colour and material concept in the interior with exclusive materials and unexpected details.
The Center Instrument with newly conceived user interface creates an event-controlled interaction space with touch operation.
Older

Articles