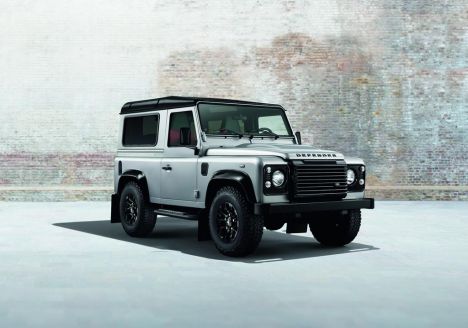 Land Rover to introduce Black Pack and Silver Pack for Defender at Geneva
19th February 2014
This year's Geneva Motor Show sees the launch of two new distinctive option packs – the 'Black Pack' and 'Silver Pack' – for the iconic Land Rover Defender. Defender will also benefit from a suite of optional features including a new aluminium finish to the vehicle's side runners, contrast finish leather seats, privacy glass and, for the first time, an ebony Alston headliner which brings a touch of luxury and prestige to the rugged legend.
Two new option packs for the highline Land Rover Defender XS
Black Pack – This pack features a Santorini black finish, which is applied to the roof, grille, grille surround, headlamp surrounds, wheel arches, 'Defender' bonnet script and interior facia. Privacy glass and an ebony Alston headliner lend the vehicle added visual drama. The black pack will be available with two wheel variations – a gloss black Sawtooth alloy wheel and a new gloss black heavy duty wheel.
Silver Pack – The silver pack adds a bright Indus silver finish to the contrast roof (either body colour or contrast), which is complemented with the same finish to the grille surround, headlamp surrounds and facia. The vehicle also features the Dual Finish alloy wheels as standard and a bright light pack incorporating white tail and indicator lights.
Older

Articles