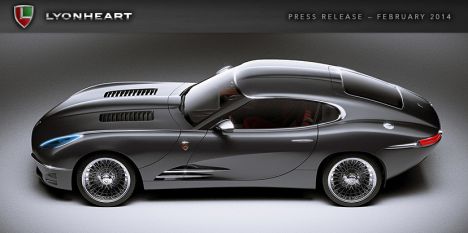 Lyonheart K: production delay
19th February 2014
Lyonheart Cars Ltd have just announced that the production start of the much-awaited Lyonheart K will be delayed by 6 months to one year. The production of 250 cars, including Coupé and Convertible versions, was initially planned between December 2013 and the summer of 2015. Plans included possible larger scale sourcing of Jaguar base vehicles. Due to emerging new technological platforms in the course of the engineering process, the management of Lyonheart Cars Ltd has decided to abandon the initial base vehicle and start over the engineering using the latest platform available. This does not prevent orders being placed in the usual manner, while supplier consultation will continue for the longer term.
Lyonheart's prospective customers and other stakeholders will be informed of the engineering process in due course. Robert Palm, CEO: "We believe it is far more important for our customers to taking advantage of the most recent developments in automotive technology, especially in this price range, than being able to receive their car earlier. The Lyonheart K has a timeless design, which will remain identical in spite of the structural changes on the car."
The Lyonheart K achieved worldwide acclaim when it was first unveiled in 2012. Created and designed by Robert Palm, founder of Swiss design firm Classic Factory, the Lyonheart K will be engineered and built by the Envisage Group in Coventry, well known for their expertise in low volume series for renowned carmakers.
Older

Articles