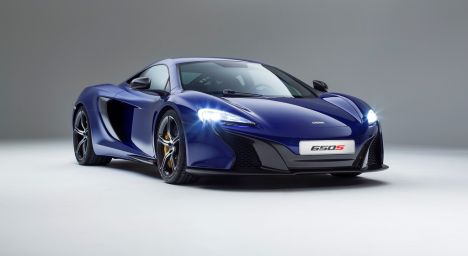 McLaren release first official pictures of new 650S
17th February 2014
Judging from the first official pictures of the new McLaren 650S, it would appear to be a very well balanced and good looking cross between the 12C and P1™. The 650 is likely to stand for the power output of the new model, which is due to be launched at the forthcoming Geneva Motor Show in March.
The McLaren 650S Coupé and 650S Spider are the latest additions to McLaren's exciting supercar range. Positioned between the 12C and McLaren P1™, they represent the ultimate luxury supercars.
The new McLaren 650S Coupé and Spider take everything you love about the McLaren 12C and enhance it with additional performance, increased agility and exterior styling inspired by our McLaren P1™ supercar. McLaren's peerless commitment to comfort and usability remains intact.
Using a bespoke 3.8-litre twin-turbocharged V8 engine, both the 650S Coupe and 650S Spider produce a staggering 650PS and 678Nm and can accelerate from 0-62mph in just three seconds.
The seven-speed dual-clutch gearbox shifts faster than ever before, and the three driver-configurable suspension modes have been recalibrated to reflect the 650S Coupé and Spider's sportier brief without impacting on ride comfort. Meanwhile, the Airbrake now provides additional stopping power and senses when increased downforce is required.
Older

Articles