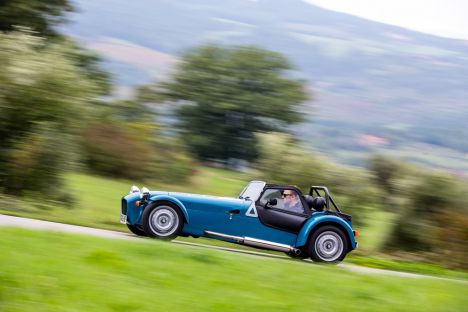 Caterham Seven 160 - the world's most economical two-seater sportscar
22nd January 2014
As Caterham Cars prepares to kick off production of the Seven 160, the British sportscar maker has announced ultra-frugal performance figures for the entry level version of the iconic Seven; making it not only the most economical Seven in the company's history but also the most cost-effective two-seater sportscar on the market*.
The newest model to join the ever-expanding Seven range is powered by a super-compact, turbocharged three-cylinder Suzuki engine, which enables it to achieve an impressive 57.6mpg** and emit just 114g/km CO2.
The combination of the car's live-axle rear suspension, efficient engine and ultra-low weight offer drivers the unforgettable Caterham experience in the most affordable package yet. Priced from £14,995 in component form and £17,995 fully built, the Seven 160 can be taxed for just £30 per year.
The Caterham Seven 160 focuses on unique charm and handling ahead of pure power, bringing unrivalled levels of efficiency, fun and value for money to the budget sportscar segment.
Producing 80hp from its 660cc engine and generating a top speed of 100mph, the 160 will reach 0 – 62mph in a swift 6.5 seconds.
Caterham Cars' Chief Commercial Officer, David Ridley, said: "The 160 adds something truly different to the existing Seven range, whilst staying true to our core values of simplicity and purity.
"To achieve our performance criteria, we called on the expertise of our engineering division, Caterham Technology & Innovation (CTI). Our engineers carried out significant development work to fine-tune the Suzuki engine from its standard output of 64hp to 80hp and ensure the engine, suspension and overall dynamics all worked in harmony, whilst boosting fuel economy and reducing emissions."
In Europe and the rest of the world an altered, EU5-compliant version called 165 is available. The number five at the end of the EU spec car's moniker signifies that the vehicle complies with the EU5 emissions standards, allowing it to be sold across mainland Europe and beyond.
*Conventionally powered two-seater sportscar
Competitors:
Lotus Elise 45mpg
Mazda MX5 SE 39.8mpg
MINI Roadster Cooper SD 52mpg
Morgan 4/4 44.1mpg
**Caterham Seven 160 achieves 57.6mpg on combined cycle
Older

Articles