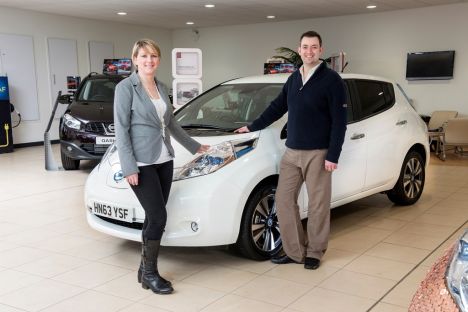 Nissan sells 100,000 electric Leafs
20th January 2014
Nissan LEAF, the world's most popular electric vehicle - with 95% of customers willing to recommend the car to friends - has reached a major milestone in its short life. After just three years on sale globally, Nissan has delivered the 100,000th example of the zero emission Nissan LEAF. The car, a UK-built top-of-the-range Nissan LEAF Tekna in white, has been sold to a British buyer based in Hampshire.
"For such a revolutionary car, to achieve this sales milestone in such a short space of time is a major achievement," said Guillaume Cartier, Senior Vice President Sales and Marketing, Nissan Europe. "Don't forget that when Nissan LEAF was launched in 2010, the charging infrastructure was in its infancy. But that didn't deter the pioneers who immediately appreciated the benefits of a purpose-designed electric vehicle. Three years on, many are already on their second Nissan LEAF. With five seats, practical back doors and class-leading boot space volume, the Nissan LEAF is the EV for the real world. "Today, meanwhile, many cities have growing networks of quick chargers and this is helping accelerate sales of the multi-award winning LEAF."
Martins of Winchester, is the Nissan dealer which sold the actual 100,000th car to dentist Brett Garner, a self-confessed 'technology freak' whose practice is based in nearby Fareham on the South Coast of England. Brett was prompted to consider the car by a LEAF-owning friend, who praised the car not just for its zero emissions and advanced technology, but also for its low running costs. "He said he was saving a fortune. My wife wasn't convinced initially but I ran through the finances with her - the low cost of maintenance, insurance, fuel and so on - and she softened a little. "But when she used the car to make a 500-mile round trip, she was converted. The journey took a little longer than normal with a stop for a quick charge top-up on both legs... now she insists on using the LEAF a couple of days a week," he added.
The LEAF is perfectly suited to Brett's regular daily commute - a 50-mile round trip - and the Garner's have had a Polar charging point installed at their home by British Gas. "We have another conventional car at home but that only manages 25mpg so we use it sparingly as it costs so much to refuel," he added.
The vehicle's success confirms Nissan's place as the world's leading producer of pure electric vehicles and underlines its pioneering role in redefining the way we think about our future mobility.
Quite apart from its emission-free electric drivetrain, the Nissan LEAF bristles with innovative technology, including smartphone interconnectivity, and offers driving refinement and excitement in equal measures. "Nissan LEAF is a pioneer in every sense and over the last three years has done a great deal to change attitudes towards electric vehicles - indeed some of the best Nissan LEAF 'salespeople' are our highly satisfied owners who praise the car whenever they can. We are confident the next 100,000 global sales will come even quicker," said Cartier.
Older

Articles