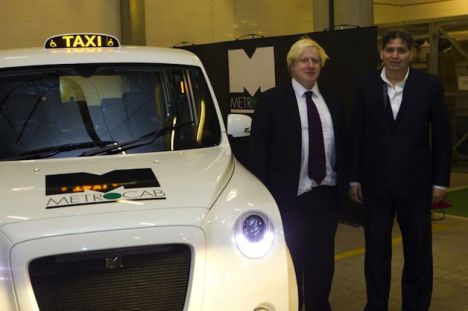 Metrocab to trial new EV taxi on London streets
10th January 2014
London Mayor Boris Johnson takes an exclusive first look at an all-new Range-Extended Electric (REE) Metrocab from UK-based Ecotive and its technology partner Frazer-Nash Research. The Mayor also couldn't resist the temptation to get behind the wheel for a short drive, demonstrating that the Metrocab is ready for market.
Designed, engineered and built in-house by Ecotive and Frazer-Nash in Mytchett, Surrey, UK, the new zero-emissions-capable world taxi is set to launch as a trial fleet on the streets of London early in 2014.
Metrocab Chairman Sir Charles Masefield said:

"The Metrocab is designed as a new generation of taxi for world-class cities and there is no better place to launch it than one of the world's great cities and home to probably the world's most iconic taxi - London. The Metrocab represents a revolution in the market as the first electric-powered cab to meet the typical high-mile duty cycle of a taxi, and which is ready now. Our range extended drivetrain technology offers the solution world-class cities are looking for, and we are confident Metrocab will make a real impact in the market and provide a better service to cities, drivers and passengers alike."

The Metrocab from Ecotive and Frazer-Nash is the latest in a long line of electric powered transport solutions they have marketed and developed over the last 25 years with world-class highly efficient, optimized and fully-integrated digital electric and hybrid-electric powertrains. Priced competitively to enter the taxi market, the Metrocab is powered by a lithium-ion polymer battery pack with an electric motor to each of the rear wheels.

Following the trial early next year, the Metrocab will be rolled out in London and to other key cities around the world.


Older

Articles