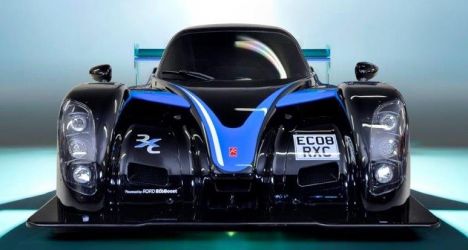 Radical launch RXC Turbo at Autosport International
9th January 2014
Radical Sportscars introduce the RXC Turbo and announce a technical partnership with Ford. The extraordinary RXC gains EcoBoost technology for its road and race variants with the introduction of the 3.5-litre twin-turbo V6 engine, ramping power up to 460PS and torque to a massive 500ft lb – enough to endow the 940kg RXC Turbo with a supercar-shattering 0-60mph time of just 2.6 seconds!
With Ford EcoBoost technology winning the International Engine of the Year award in 2013 for the second year running it was an obvious match for the lightweight, high-tech and incredibly accomplished Radical RXC. Through the technical partnership Ford and Radical have been working closely together to maximise power and torque, whilst retaining throttle responsiveness and fuel economy made possible by two small turbos capable of spinning at 248,000 rpm, direct fuel injection and Ti-VCT (twin independent camshaft timing). The engine is charged cooled by a Radical designed and built system to ensure utmost efficiency is maintained at all times.
Launched one year ago at the ASI 2013, the RXC with its normally-aspirated 3.7-litre V6 has proved a huge hit with both press and customers alike. Radical's MD, Phil Abbott said the RXC would become a 'game-changer' and so it has proved. Never before had a car been available for the road and track with performance and technology on this scale with real-world reliability. Now with Ford's support the RXC is being taken to the next level.
The RXC Turbo has a revised interior with (optional) increased sound deadening, aerodynamic enhancements to improve on the already incredible downforce levels available and traction control as standard. 'From the outset the RXC was devastatingly fast, but we designed it to handle even more power,' said Phil Abbott. 'We have had a great first year with the RXC and it has been veryexciting to have been working with Ford. The upper management have given us a lot of support and have allowed us access to a huge amount of technical back up that you can only get when working with a major manufacturer. Our designers and engineers have been able to work with the key EcoBoost engineers to perfect the performance for our car. I know how good the RXC is, and I also know how capable the 3.5-litre EcoBoost motor is too.
Together they make a devastatingly complete package.'Roelant de Waard, Vice President Marketing Sales and Service of Ford of Europe said:' Fordhas a proud history of class leading performance engines and I was incredibly impressed with what Radical achieved with first the 3.7 V6. I drove the RXC at Spa last year and I can tell you to believe what the press have been saying about this car, it is packed with true race car technology, but easy to drive and its feedback and incredible cornering ability, making it truly thrilling. I can't wait to drive this Turbo version.'
Older

Articles