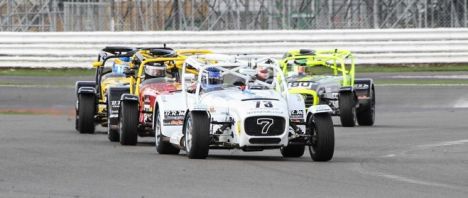 Caterham R300 Championship race car enhanced for 2014
7th January 2014
Caterham has introduced an updated version of its Superlight R300 race car, boosting performance and further reducing running costs.
Already the top rung of the famous Seven racing ladder and one of the most exciting single-make series in Europe, the 2.0-litre, 175bhp vehicles will now be equipped with a Sadev six-speed sequential gearbox, instead of the existing manual unit.
The new gearbox utilises flat shifting electronics which allow clutchless up-shifts, making for faster, more precise gear changes and even closer racing.
The new version of the R300 race car has undergone further performance enhancements, including a switch to Avon's ZZR tyre – in place of the Avon CR500 – which is longer-lasting and offers higher performance through improved grip levels.
Tyre use remains limited, with just five sets for the season, which coupled to a more robust transmission, keeps running costs low.
Alongside a plethora of other Caterham machinery, the new R300 racer will be on display at next month's AutoSport International Show at Birmingham's NEC (Jan 8-11). Caterham will be located at stand 2540 in Hall 20.
The R300 race car also boasts new upper wishbones to take advantage of the altered characteristics of the Avon ZZR tyre and can be specified with new lighter 13-inch wheels. For wet conditions, Avon's all-new ZZS tyre will be available. .
Simon Lambert, Chief Motorsport & Technical Officer of Caterham Cars, said: "The Sadev gearbox, which is used in the 310bhp Seven 620 R road car, is a cutting-edge piece of engineering and it suits the R300 perfectly. It's extremely robust and gives the series a new dimension.
"We are looking forward to bringing back sequential gearboxes to Caterham racing – the feedback we have received from the drivers has led us to develop the new Superlight R300 race cars. It's a win-win scenario because not only will lap times be faster, but it should prove to be extremely robust, too, meaning that along with the durable ZZR tyre, entrants can expect improved reliability and reduced costs."
Priced from £32,495, the new R300 race car is available to order now. The season commences at Snetterton circuit on April 19 and includes rounds at Donington, Zolder in Belgium, Brands Hatch, Rockingham, Croft and Silverstone.
Older

Articles