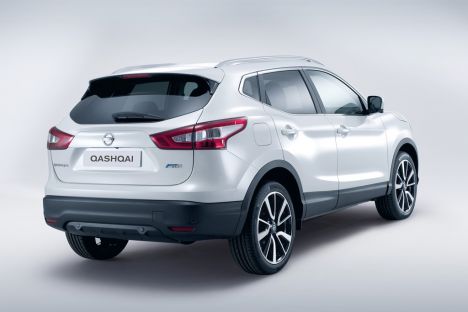 New Nissan Qashqai residuals soar above competitors
3rd December 2013
The new Nissan Qashqai, which goes on sale in January 2014, will retain 50 per cent of its value after three years/30,000 miles - a 10 per cent improvement on its predecessor - according to latest data from residual value (RV) setters CAP.
The new £20,840 Qashqai 1.5 dCi Acenta now has an RV of 50 per cent or £10,400 after three years, meaning that the new Qashqai is set to retain £2,375 more over its first three years of life compared to its outgoing equivalent.
Not only does this position Qashqai as the C segment diesel Crossover king but also places it ahead of some key hatch rivals such as the Volkswagen Golf.
The 1.5 dCi also returns combined fuel consumption of 74.3mpg while emitting just 99g/km CO2, further reinforcing the business case for fleet drivers.
Meanwhile, the new Qashqai 1.2 DIG-T Acenta petrol - priced from just £19,145 - also enjoys a 10 per cent RV increase on the outgoing model, giving a real world RV after three years of £9,575, a £2,800 increase on the outgoing 1.6 Qashqai Acenta.
Helping to contribute to these strong value forecasts is an abundance of leading technology and safety items. Even entry-level Visia models get Bluetooth, Cruise Control and Hill Start Assist, while top-of-the-range Tekna models boast Safety Shield with Traffic Signal Recognition and High Beam Assist.
Michael Auliar, Nissan GB fleet sales director, said: "The original Qashqai not only created the crossover segment but also performed very strongly in the used market, retaining its value far better than its closest rivals. CAP has raised the RV 10 percentage points, underlining the progress we have made and emphasising how strong the Qashqai is as fleet prospect over its whole life cycle."
Older

Articles