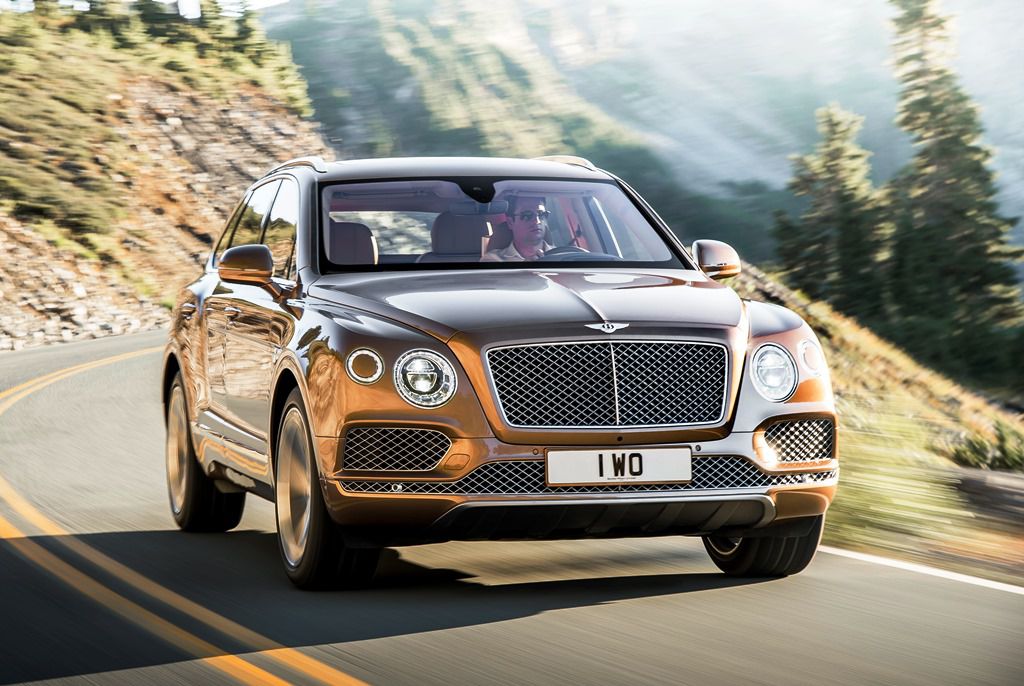 Bentley

- Bentayga Price:

from £133,100
Last Updated On: 18/10/2019
Since its launch in 2016 there are now six models in the Bentley Bentayga range, with the Speed version at the pinnacle. This is the world's fastest SUV, embodying uncompromising power and exquisite craftsmanship.
The Bentayga V8 offers a dynamic sporting edge, while the Bentayga V8 Design Series goes further still with a bold, contemporary aesthetic that is guaranteed to turn heads. Bentayga Hybrid is the first ever luxury plug-in hybrid SUV, The class-leading V6 petrol engine contains a twin-scroll turbocharger that enables rapid response and high efficiency, and the engine works seamlessly with the electric motor to provide an impressive 700 Nm of combined torque. This allows the Bentayga Hybrid to go from 0 to 60 mph (97km/h) in 5.2 seconds and 0 to 62 mph (100 km/h) in 5.5 seconds and on to a top speed of 158 mph (254 km/h). For US Combined driving it can achieve 50 US mpg and a C02 output of 124 g/km.
The impressive Bentayga itself with its 6 litre W12 engine provides effortless power across all terrains, then there is the Bentayga Diesel, which is able to travel more than 1,000 km (621 miles) on one full tank of fuel.
An all-new twin-turbocharged 6.0-litre W12 engine is at the heart of the new Bentayga. The mighty 12-cylinder unit combines efficiency and refinement with ultra-luxurious levels of power and torque. With 608 PS (600 bhp / 447kW) and 900 Nm (663 lb. ft) delivering a 0-60 mph time of 4.0 seconds (0-100 km/h in 4.1 seconds) and a top speed of 187 mph (301 km/h), the Bentayga is the world's most powerful and fastest SUV.
Since its launch the Bentayga is now also available with a 4 litre V8 engine, which gives the SUV a 0-60mph (97km/h) time of 4.4 seconds and a top speed of 180mph (290km/h). This engine achieves a combined fuel consumption of almost 25mpg (11.3 litres/100km). Performance figures for both powerplants are extraordinary considering the size and type of vehicle they are propelling! Another first for the Bentayga was the introduction of a diesel option (image 6), the first in Bentley's history. It also gives this large SUV a combined fuel consumption of just over 35mpg (8 litres/100km), without denting the performance figures very much.
The handcrafted cabin of the Bentayga is the ideal setting for the exhilarating journey ahead. The straight fluted seats are as comfortable as they are elegant, with the supple leather hides available in a choice of five different colour splits as standard. The upper cabin is trimmed in Eliade, a soft and tactile fabric available in five colours. And the contemporary sophistication of Dark Fiddleback Eucalyptus veneer, Bentley treadplates and foot pedals in the classic 'B' design as standard provide the perfect finishing touches.
A range of in-car technology is designed to enhance the journey for both driver and passengers, with navigation, ventilation and a host of other features accessed through an 8" high-resolution touchscreen. Driver assistance technology included as standard, such as Exit Warning and a rear view camera, makes the roads easier to navigate, while Bluetooth, Wi-Fi and Apple CarPlay connectivity allows passengers to stay connected to the outside world.

Additional Images: click to enlarge