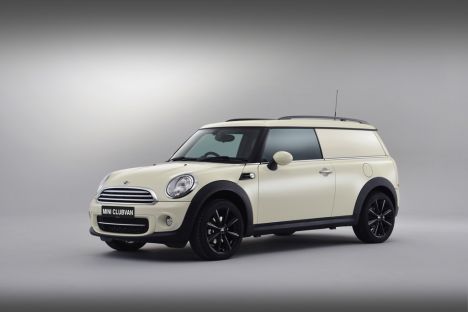 MINI Clubvan delivers at 2013 What Van? Awards
4th December 2012
The all-new MINI Clubvan has picked up its first award after winning the Editor's Choice award at the 2013 What Van? Awards.
Commended for delivering style, efficiency and class-leading driving dynamics not usually found in light commercial vehicles, the Clubvan has already made a big impression on industry experts just months after its initial unveiling at Goodwood Festival of Speed earlier this year.
"The arrival of the MINI Clubvan is the most exciting and charismatic entrance into the light commercial vehicle arena for many years, offering small businesses in particular the opportunity to run a vehicle that combines workman-like light van practicality with a style not currently available, and that's without mentioning MINI's unrivalled driving pleasure and good fuel efficiency," said What Van? Editor Paul Barker. "It's fair to say we're looking forward to the Clubvan's arrival, and it will offer small van users something unique and appealing."
Combining both the practicality of a 860-litre load capacity with premium features already familiar to existing MINI customers, the MINI Clubvan offers commercial customers both style and substance on the road.
Built in Britain at MINI Plant Oxford, the MINI One Clubvan starts from just £11,175, retail price excluding VAT.
Older

Articles