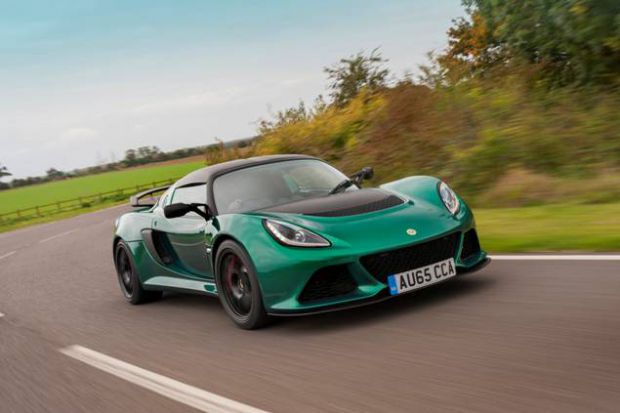 New Lotus Exige Sport 350 announced
9th December 2015
As the ultimate incarnation of the world famous Exige, Lotus has revealed the Sport 350, the latest version of the class-leading and award winning sports car, that's lighter and faster than ever before.
The new Exige Sport 350 is the next model in the range to mark the reintroduction of the renowned 'Sport' naming designation. It joins the recently announced Lotus Elise Sport and Elise Sport 220 – delivering a lighter and even more performance-focused driving experience.
Concentrating on what Lotus does best, and with a focus on pure performance, the two-seater has been developed to deliver an unrivalled experience for the driver, being sharper and more direct than previous models. Drawing on the core elements that have made the Exige a firm favourite with driving enthusiasts, the Exige Sport 350 combines Lotus' lightweight extruded aluminium chassis structure with muscular and aerodynamically efficient composite bodywork.
A product of Lotus' 'Lightweight Laboratory', the Exige Sport 350 weighs just 1125 kg and has shed 51 kg compared to the previous model Exige S.
The 3.5-litre supercharged V6 engine generates 345 hp and 295lbft of torque at 4500rpm, offering scintillating, progressive power to the road, while revised suspension tuning and wheel geometry contribute to un-matched vehicle dynamics and steering precision. Coupled with the car's lower mass, this power and torque enables the Lotus Exige Sport 350 to accelerate to 60 mph in just 3.7 seconds (0-100km/h in 3.9 seconds) before reaching a top speed of 170 mph (274 km/h).
The Lotus Exige Sport 350 is also available with a 6-speed automatic option where drivers can change gears manually via forged aluminium paddles located behind the steering wheel, or rely on the gearbox's fully automatic mode. When fitted with the optional automatic gearbox, the new Exige Sport 350 is slightly quicker for 0-62 mph (0-100km/h), clocking a time of 3.8 seconds against 3.9 seconds for the manual gearbox, due to electronically optimised gearshifts.
New trim packs introduce a heritage theme to the cabin with lightweight sports seats and door panels clad in red or yellow Tartan (leather or Alcantara interior trim options are also available). The Tartan theme was first introduced in 1976 in the Lotus Esprit S1 and was a bold statement originally in keeping with the fashion of the time and now fitting for the new Exige Sport 350.
The Lotus Exige Sport 350 goes on sale in Europe in February 2016, priced from £55,900, and will be available outside Europe, excluding North America from March 2016. The Lotus Exige Sport 350 will also be available as a Roadster from March 2016.
Older

Articles