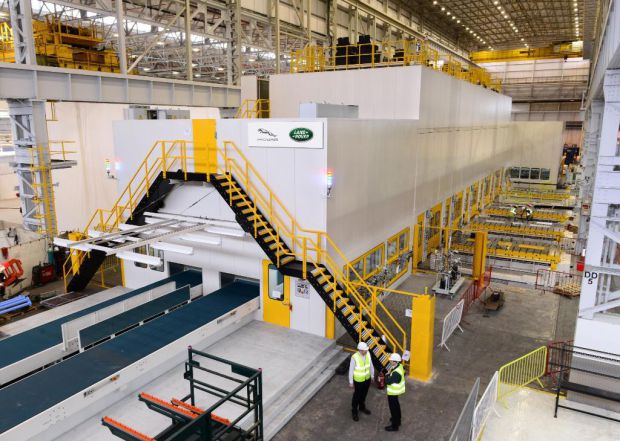 £45 million invested in Jaguar plant
20th March 2014
Jaguar Land Rover, the UK's leading manufacturer of premium vehicles has invested £45m in a new state-of-the-art servo press line at its Halewood Operations, near Liverpool, England.
The new Servo stamping line, the first of its kind to be built in the UK, is 13 metres tall and over 85 metres long. It has a combined press stamping capacity of 7,900 tonnes, making it the fastest and one of the biggest and most powerful press lines across Jaguar Land Rover, stamping both steel and aluminium panels.
Installing this giant facility required a major reconfiguration of the Halewood press shop, with the plant roof raised by almost 12 metresto accommodate the new machinery. The press shop bay also had to have its footprint extended by almost 50%, compared to the previous stamping machine.
Richard Else, Jaguar Land Rover, Operations Director - Halewood, said: "This colossal new press line reinforces Jaguar Land Rover's long term investment in UK manufacturing. Halewood is one of the most flexible, advanced automotive manufacturing facilities in Europe, producing two of the highest quality, largest selling Jaguar Land Rover vehicles to over 170 countries world-wide. This investment ensures we can make more panels, even more efficiently and will continue to do so for many years to come."
Older

Articles