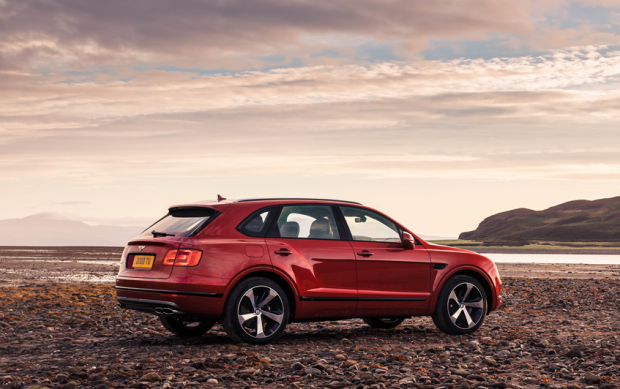 Bentley Bentayga gets a V8
12th January 2018
Since its introduction, the Bentley Bentayga has defined a new sector and set the luxury SUV benchmark, offering customers the ultimate Grand Touring experience unrestricted by landscape or conditions. The award-winning Bentley model is now available in its most sporting guise to date – the Bentayga V8.
At the heart of the latest Bentayga model is a new-generation 4.0-litre, twin-turbocharged V8 petrol engine which combines immense power with impressive fuel efficiency. The addition of a characteristic V8 burble, stylish twin-quad exhaust pipes and optional carbon-ceramic brakes, reveals more of the luxury SUV's sporting character.
Sitting at the core of the Bentayga range, the new V8 model fuses exquisite luxury with power, usability and extensive sporting ability. Its responsive performance is fully customisable on demand by the driver through Bentley's Drive Dynamics system, from limousine-like refinement to sporting precision.
Inside, customers will recognise Bentley's unique approach to modern luxury tailoring, with the familiar blend of exquisite handcrafted materials and advanced technologies. New styling features include a wood and hide steering wheel and the introduction of a high-gloss carbon-fibre interior panel finish.
The dynamic unit develops 542 bhp (550 PS) and 568 lb.ft. (770 Nm) of torque, resulting in a top speed of 180 mph (290 km/h) and 0-60 mph in 4.4 seconds (100 km/h in 4.5 seconds).
The class-leading performance of the Bentayga V8 is complemented by a range of 464 miles (746 km), with CO2 emissions of 260 g/km. This refined efficiency (24.8 mpg / 11.4 l/100 km combined) comes, in part, through the ability of the engine to de-activate four of its eight cylinders in suitable conditions, without compromising the drive. The seamless change happens in just 20 milliseconds, making it imperceptible to customers.
For the first time, optional carbon-ceramic brakes are offered on the Bentayga. The braking system is the largest and most powerful ever fitted to a Bentley, and the largest front brake system available on any production car.
A purposeful black and chrome grille at the front is complemented by Bentley 'twin-quad' exhaust tailpipes at rear, both of which provide a further subtle reminder of the new engine specification.
The Bentayga V8 continues the Bentley tradition of intricate detailing and fine, handcrafted precision using authentic materials. Customers can specify hand cross-stitching, which highlights the interior styling lines of the seats and door panels, and there is the choice of the Bentayga's four-, five-, or seven-seat configuration, for ultimate versatility.
Three innovative new interior options are offered in the Bentayga V8: a high-gloss carbon-fibre finish replacing traditional veneer surfaces; a wood and hide steering wheel; and a new rich red leather, Cricket Ball.
Older

Articles