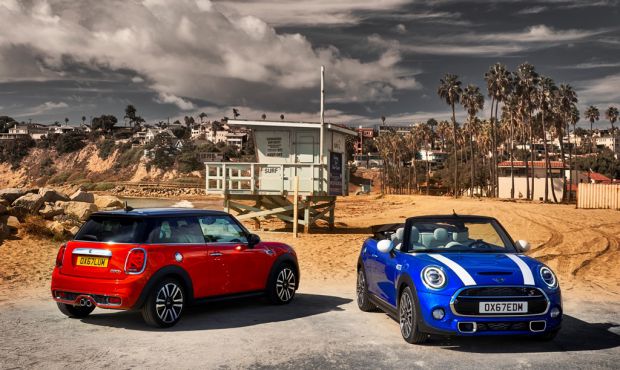 MINI gets a facelift for 2018
10th January 2018
The exterior character of the new MINI range has been refreshed with the introduction of a new front and rear LED light design, enhancing the on-road presence of the new MINI 3-Door Hatch, MINI 5-Door Hatch and MINI Convertible.
All versions of MINI Hatch and MINI Convertible sold in the UK get the same front and rear LED lamps as standard, for the first time in this segment. The LED lamps have a stronger, brighter beam pattern than the outgoing halogen headlamps, while the daytime running lamps and indicators are also LED-based, forming a new ring design around the headlights themselves.
The three-dimensional LED rear lamps cleverly incorporate horizontal turn signals and vertical brake lamps within a distinctive new light cluster. The LED lamps benefit from greater long-distance visibility, without dazzling other road users.
The 2018 MINI range will also see the debut of an all-new MINI logo on the vehicle. The new badge has a flat two-dimensional design, reflecting MINI's new brand identity with its focus on the essentials – namely key values such as driving fun, distinctive design, premium quality and emotional appeal.
The range of body finishes available for the new MINI range includes three brand new colours, namely Emerald Grey metallic, Starlight Blue metallic and Solaris Orange metallic.
The choice of alloy wheels has been expanded, too. 17-inch 'Roulette' and 'Propeller' designs are now available for all body variants of the new MINI Hatch and Convertible, along with a new 'Rail' two-tone wheel.
A broad selection of seat surfaces, interior surfaces and colour lines add a touch of individual style to the interior of the new MINI range. These include Chester leather trim in Malt Brown and a colour line now also available in Malt Brown.
Revisions to engines and powertrain have been made to further enhance driving fun. Development has been applied across the board, including the basic engine, MINI TwinPower Turbo Technology, engine electronics, oil supply, intake air ducting, the cooling system and the exhaust system. The 3-cylinder petrol engine in the MINI One has seen an increase in capacity to 1.5 litres, increasing maximum torque by 10 Nm, taking it to 190 Nm.
All new MINIs come with a precise six-speed manual gearbox as standard, but now 3-Door Hatch, 5-Door Hatch and Convertible models are now also available with a 7speed Steptronic transmission with double clutch as an option.
The transmission is offered on MINI One, MINI Cooper, MINI Cooper S and MINI Cooper D engine variants, and is characterised by very fast gearshifts, enabling sporty acceleration and an impressive spread of torque. The transmission comes with an all-new electronic selector lever, while on the MINI Cooper S the automatic option includes shift paddles at the steering wheel for a level of manual intervention.
Older

Articles